BGE's charger network will spur the adoption of EVs and help Maryland meet its clean air and Healthy Chesapeake Bay goals
The Pip Moyer Recreation Center in Annapolis is now host to the first BGE electric vehicle (EV) charger in central Maryland. The Level 2 (L2) smart charger is part of the company's EVsmart Program, which also provides customers with rebates, tools, and information that they need to go electric.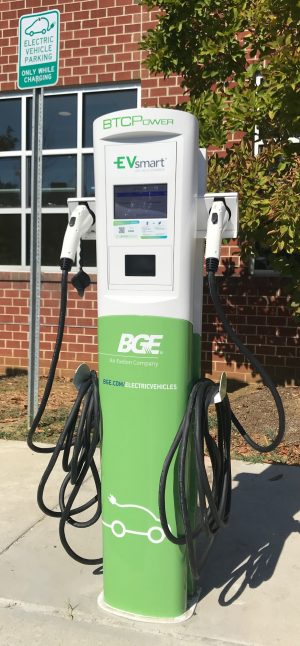 BGE will install and operate a 500-charger network available to all EV drivers containing both L2 smart chargers and DC Fast Chargers (DCFC) once fully built.
All charger sites will be located on government-owned property. State, county, and municipal government agencies are eligible to apply.
Drivers can use the new charging stations through the Greenlots mobile app and will pay 18 cents per kilowatt-hour (kWh) to charge at an L2 charging station or 34 cents per kWh at the company's DCFC stations.
A typical EV driver spending one dollar at an L2 charger can expect to gain approximately 20 miles in range.
More information on EVs, chargers, and federal and state incentives can be found at bge.com/electricvehicles. Users can explore online savings calculators that compare EVs to gasoline-powered cars in terms of fuel and commute costs, carbon impacts, and more. BGE customers can also apply for rebates to help offset the cost of chargers.