Any vehicle that is powered by electricity from a plug-in rechargeable battery is an electric vehicle (EV).
But did you know there are different types of EVs?
Battery-electric vehicles (BEVs) use only a battery and electric drives – think Tesla…
Plug-in hybrid electric vehicles (PHEVs) have a battery and electric drive and also gas engine support – the omnipresent Toyota Prius…
Extended range electric vehicles (EREVs) have a battery and electric drive and transition to a gas engine after the battery is dead – the Chevy Volt…
Many current EVs rely on a gas engine to extend driving range or provide extra power. But BEVs are becoming more common as auto manufacturers increasingly add them to their fleets, like the Nissan Lead and Chevy's Bolt.
On top of the environmental benefits gained from decreasing tailpipe emissions, EV drivers will also see cost savings on fuel, as electricity is cheaper than gasoline on a cost per mile basis (and BGE offers an EV electric rate). Overall electric bills will probably increase due to charging the vehicle's battery, but this cost will be offset due to purchasing less (or even no) gasoline.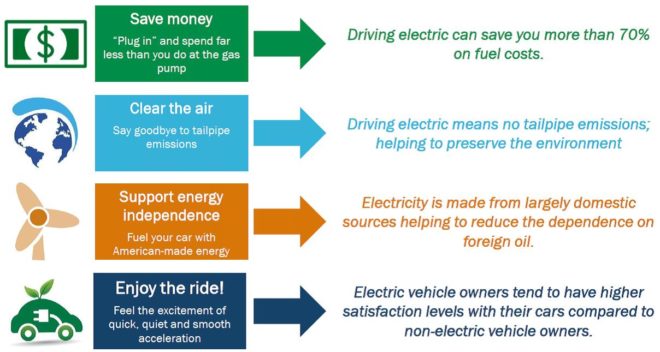 EV-drivers can also take advantage of BGE's EV electric rate to save money by charging during times when demand for electricity (and costs!) are lower.
This rate is lower during off-peak hours and higher during peak hours, updates seasonally and applies to all electricity usage associated with an account. For example, weekday peak hours run from 10 am to 8 pm during the summer. If a customer charges their EV before 10 am, after 9 pm, or during the weekend (off-peak hours), their rate will be lower!
If you purchase or lease an EV, register your vehicle with BGE by filling out this form and get more information or the EV electric rate by emailing plugin@bge.com.