How BGE ensures electric reliability for the second jewel of the Triple Crown
On the third Saturday in May, a sea of pastel suits and eccentric hats flows through the gates of Pimlico Race Course to experience an annual spectacle that puts Baltimore at the center of the horse racing world.
It's an all-day affair for many of the 130,000 fans who attend The Preakness Stakes—the coveted second jewel of the Triple Crown. Infield festivities draw massive crowds of people who have looked forward to this warm-weather event since tickets went on sale in the middle of winter.
"That's when Preakness starts for me," said Randy Baynes, a senior account representative in Large Customer Services at BGE.
Baynes isn't buying tickets in January—he's filling out "Significant Event" forms to kick off BGE's planning process to ensure service reliability during Preakness weekend a few months later. Maryland's horse racing industry is among the customers in his portfolio; the 144th Preakness, on May 18, 2019, was his fourth time coordinating race preparation for BGE.
Meetings identify assignments. Crews then launch an extensive inspection and testing operation in March. What follows is a reliability effort led by Distribution System Operations (DSO), Distribution Automation Voltage Quality (DAVQ), Customer Reliability Support (CRS), and Overhead Construction and Maintenance, with support from the Gas Division, Vegetation Management, and Underground Lines.
I'll Have Another
Electricity feeders from a preferred substation and an alternate substation connect to Pimlico, primarily through underground lines. Service emerges at separate feeder points—among the many utility poles along surrounding streets—and is then distributed to the track and other area customers. Critical inspection of overhead equipment begins here.
"It's all hands on deck," said Keith Weber, a service operator in CRS.
Weber spent the first 23 of his 31 years at BGE responding to emerging issues on the aboveground electric distribution system as a trouble man out of the Front Street Service Center. Now he's part of a CRS team focused on preventing those issues from happening at all.
"It means a lot to be part of such an important event," said Weber.
Thermal imaging camera in hand, he meticulously inspects switches, junctions, side taps, clamps, and other mechanical equipment affixed to utility poles and electric lines stretching from each feeder point to Pimlico. Excessive heat could indicate a connection in jeopardy from wear and tear, or something more serious.
Weber found only minor items in need of attention this year. The entire process takes five full days, and he does it twice: once in March and again in May.
"You do a thorough investigation, and you play it safe," said Weber.
Little Current
In the unlikely event of a total disruption on the preferred feeder, the auto-transfer gear on the Pimlico grounds would switch to the alternate feeder within seconds. Service restoration for Preakness patrons and staff would be almost instantaneous.
Dave Woodard, a senior technician in DAVQ who has worked at BGE for more than 30 years, leads the crew that checks the auto-transfer gear and nearby transformer prior to the Preakness. After he and his team assess these two vital pieces of equipment early in the week leading up to the race, they perform a load test in coordination with Pimlico personnel to measure voltage quality and capacity level.
"They turn everything on," said Woodard.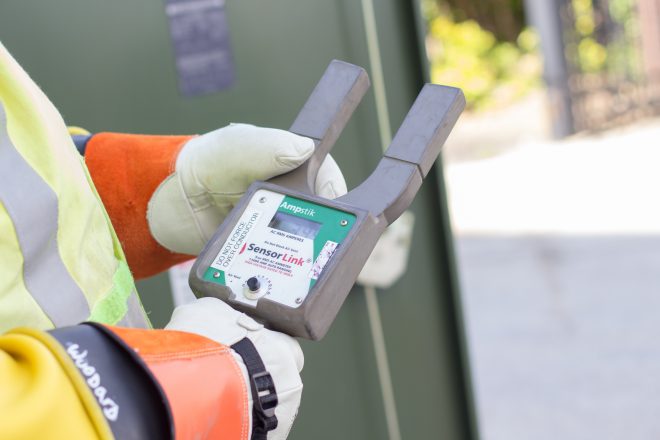 The readout: 7,620 volts per feeder phase—as expected—and 350 amps per phase, which is less than 20 percent of transformer capacity when the track's lights, air conditioning, and anything else that draws power are running at the same time. In advance of the test, the control room for DSO minimizes load on both feeders to open them up for higher demand on race day.
Woodard's team also inspects the overhead reclosers and ground-mounted reclosers that affect Pimlico. Reclosers briefly shut off a line's electric supply automatically when a fault is detected. They stay open only if the fault persists. Otherwise, they close again to allow electricity to flow through the circuit, an automated way of preventing prolonged outages from momentary incidents like a tree branch tapping a line.
Affirmed
But there's more to reliability than functioning, cutting-edge equipment.
Boots on the ground during the Preakness back up BGE's comprehensive pre-race preparedness efforts, ready to perform manual work should automated equipment or processes fail.
"We're here for acts of God," Woodard said at his eighth Preakness this year. "We have five minutes to fix the problem. At that point Pimlico would switch to generators."
The DSO control room, operational around the clock every day of the year, holds a morning briefing on restoration plans with supervisors who oversee crews at the track. Just after sunrise, Weber, Woodard and his team, three trouble men, and two DSO supervisors arrive at Pimlico to stage for the day.
Mark Zepp is one of the DSO supervisors, leading crews at the Preakness for the third straight year.
"If something happens, we might know about it first," said Zepp.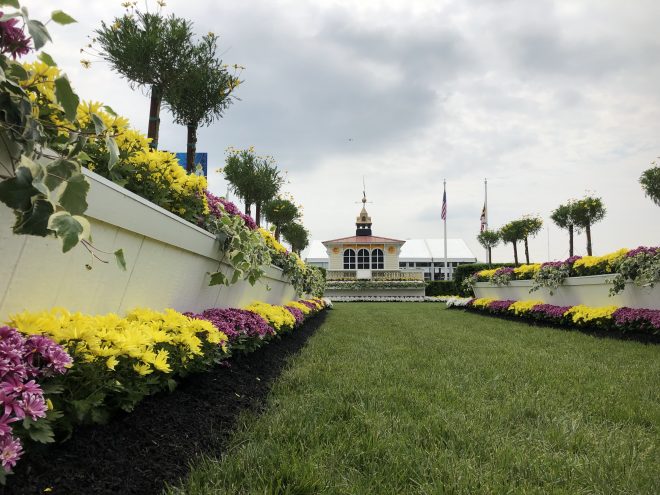 Gas is involved, too. Friday and Saturday of Preakness weekend, the BGE Gas Division positions mechanics nearby the track so they can avoid sprawling event traffic if they respond to an odor call.
The overall Preakness reliability work stretches to field operations across the entire company.
Real Quiet
Lessons learned from a prolonged outage at Pimlico on Preakness day in 1998 seeded the robust planning process BGE now uses for the many significant events BGE prepares for and monitors each year.
"It was an aha moment," said Baynes. "BGE looked at other major events in our service area and asked, 'what if the lights go out?'"
Two decades later the question has evolved into something more poignant: how do we continually build on the progress we've already made?
I'll Have Another, Little Current, Affirmed, and Real Quiet won the Preakness in 2012, 1974, 1978, and 1998, respectively.