Leakin Park visitors enjoy reforestation and restoration along an upgraded section of natural gas pipeline that safely and reliably serves BGE customers.
How do you recreate a forest?
Just ask Exploration Research, Inc. (ERI), an Elkridge, Md.-based environmental design, surveying, engineering and consulting firm. They tackled one of the largest reforestation projects ever undertaken by BGE.
ERI, a woman-owned and led firm, was brought in as a partner to recommend a plan to renew the area above a new two-mile section of the Granite Pipeline, as well as to manage restoration and preservation of the woodlands and wetlands within a 16,000 square foot area in Baltimore City's Leakin Park.
This reforestation is in connection with BGE's recent upgrades and replacement of an aging section of the underground natural gas pipeline located in Leakin Park.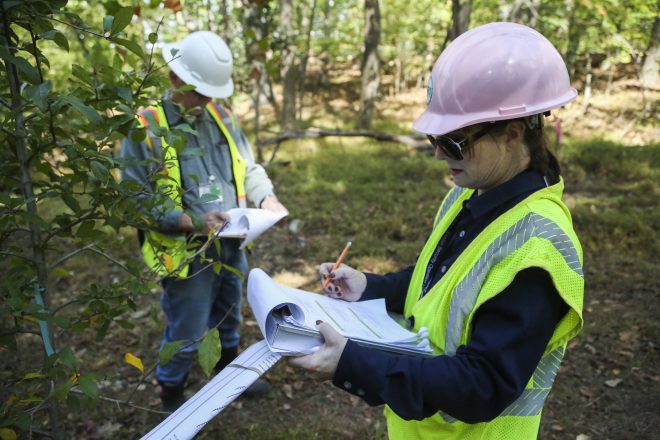 Deborah Shumaker, president of ERI, described the complexity of the reforestation project. "Our staff started with an Environmental Impact Report to assess which alternate route would be the least environmentally sensitive, which turned out to be an upland route that got the pipeline out of the floodplain. This was instrumental in protecting the wetland areas of the park."
The route and wetlands preservation plan was approved by regulators, the U.S. Army Corps of Engineers, the state of Maryland, and Baltimore City. ERI then completed an inventory of 800 trees and scores of plants in nine different locations. Species identified for the reforestation work included black oak, red oak, flowering dogwood, sycamore, and witch hazel, covering all heights from the canopied large specimen trees to midspecies and groundcover essential for erosion control.
After BGE completed the pipeline work, ERI then supervised the delivery and planting of 900 new trees, from ensuring adequate watering during a period of unusual drought, to properly staking the new trees to withstand the elements.
Visitors already know there are many nature trails that lead from Carrie Murray Nature Center into the park. As part of the project, BGE repaired a pothole hazard by repaving a portion of the Gwynns Falls trail. All of these improvements and other commitments from BGE make for a greener, more welcoming and environmentally friendly space for neighbors, visitors and wildlife alike.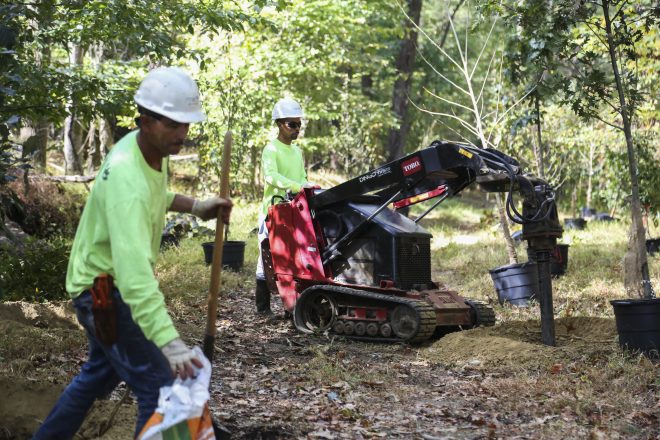 _________________
Diverse Suppliers at BGE
BGE has a long-standing commitment to diversity and inclusion and is an industry leader in the area of supplier diversity. BGE is dedicated to developing relationships with Maryland's minority-owned, women-owned and veteran-owned business communities. ERI is among the diverse suppliers BGE relies on to ensure that its talented supplier base reflects its unique service area.