A BGE grant helped the Laurel Volunteer Fire Department (VFD) afford a new ambulance.
It's no secret that health care is expensive. So are the tools that health care workers and first responders need to save lives. When the Laurel Volunteer Fire Department (VFD) needed a new ambulance, they knew the price tag was large. They budgeted, fundraised, and took a sharp pencil to their ambulance billing budget to swing the purchase.
Inside the ambulance is a battery powered mechanism called a power lift. This raises and lowers the cot and can carry up to 500 pounds. Without it, many paramedics have suffered back injuries from lifting. To save money, the officers at Laurel VFD planned to reuse the old cot and lift from the ambulance they were replacing. However, COVID-19 had taken a toll on the old machinery. The constant bleaching and sanitizing required after every call had left the carrier torn and worn beyond reliable use.
The new question for Paul DeMennato, who has been a member of the Laurel VFD since 1997: "where do we get $39,000 for a new cot and power lift?" The answer was from many funding sources. "Between the emergency responder grant from BGE, another grant from the Ladies Auxiliary and one from the City of Laurel, as well as a public donations campaign, the fire house was able to raise enough to purchase a new system for the new ambulance," said DeMennato, an active volunteer who also serves on the Board of Trustees.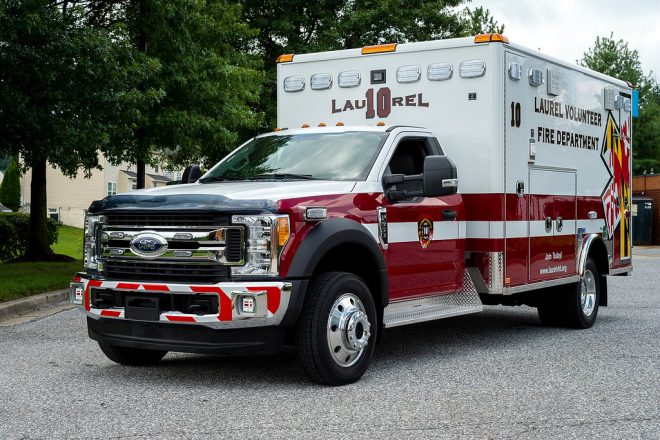 It is only fitting that these life savers, who are all volunteers, got the tools they needed. The volunteer firefighters and emergency medical technicians are required to complete the same 140-180 hours of training as career (paid) staff. The time commitment is large when working a full-time job, said DeMennato, whose day job is chief information officer for the U.S. Army's Department of Defense.
"Volunteers save taxpayers millions of dollars every year. The starting salary is about $50,000 annually with some leadership positions making triple that," DeMennato explained, noting that Prince Georges County alone has more than 1,000 volunteers in its 43 fire stations. The Laurel VFD ambulance handled 1,696 calls last year.
Asked how he balances an "on call" life, he responded, "We do it because we love it and our community needs us."