Kedrick Foster is always looking for ways to improve efficiency and effectiveness.
Kedrick Foster came to BGE at age 26. In less than 12 years, he had progressed from an entry-level employee working on underground pipelines to a Senior Training Specialist.
During this time, his unique approach and individual ideas have impressed his supervisors and helped him move through increasingly responsible positions at BGE. His ideas range from applying a simple technology to a new approach to learning for his whole department.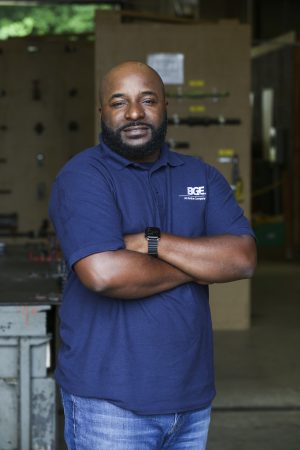 Last fall, Foster was observing the role of supervisors in natural gas construction. He learned how the field team had used a simple online program to streamline a bulky paper process.
Daily vehicle inspections are an essential part of BGE's field practices. Before employees enter their trucks, they run through a check list to ensure the vehicle complies with all safety regulations and BGE protocols.
In the past, employees filled out paper forms. Then others had to record and tally the results – and they filled drawers with sheets of paper for record keeping.
The Microsoft Forms application has streamlined the entire process. Today, employees scan a code into their phones and are directed to an online form containing the same checklist. The system collects the information and downloads it into a spreadsheet that can be used for employee supervision and regulatory compliance.
Foster immediately recognized an application within his own department for the automated forms, and he quickly replaced a multi-step process with a single-step paperless one. The process involved keeping track of COVID safety steps.
As do all utilities, BGE relies on private contractors for much of its pipeline work. Contract employees are required to attend routine evaluation sessions to ensure they are following the same practices as BGE employees. When COVID-19 arrived, the training team created a checklist for COVID safety protocols.
Trainers not only had to fill out the paper form after each training session, but they also had to scan the paper, email it to themselves and download it onto a shared drive. Foster set out to simplify things.
He taught himself how to use Microsoft Forms and created an electronic checklist. He set up a new form, set up a scanning code that allows for his co-workers to use and directed all the results to a central location for later review.
From that experience, Foster learned two important things. First, there's great potential to do things differently and more simply. And secondly, it's valuable to reach out to others in the company to learn from their processes.
As a result, the training team is scheduling field visits to other company departments. They expect to gain insights into ideas to incorporate into the training program and utilize with trainees.
Foster speaks highly of BGE for many reasons. The first is its commitment to safety – something he is proud to pass on in his training role.
At his previous company, he said, "the main goal was just to get the job done. No matter how you do it. When I came here, we just focused on safety for weeks. Safety, safety, safety."
Foster also appreciates the opportunity to learn and to progress at BGE, and he particularly is grateful to the mentoring he has received from two individuals: Joe Soper and Keisha Clarke-English. "They have really been helping me with professional development and finding my path."
When Foster started work at BGE, he was already wondering how he would move up through the company. He remembers sitting in a meeting where, "a lot of supervisors and managers were speaking. They had been here 20 or 30 or 40 years, and they had all that accumulated knowledge. I thought, 'it's going to be a long road for me.'"
Then, "Fast forward to a couple months ago, in the same meeting. All the supervisors and managers are people who came into the company with me around the same time. And I'm one of those up in front looking at all the new people."