Teams are bringing good energy into the community!
BGE and PHI partnered recently to host an Energy STEM Day at the Cardinal Shehan School in Baltimore for 7th and 8th graders.
The day focused on raising students' awareness of careers in the energy industry through short career overviews and engaging them with hands-on activities to showcase "a day in the life" experience. The hands-on activities included a virtual reality training exercise, an engineering activity focused on gas pipeline repair, a customer call simulation to highlight how BGE and PHI work with customers in various situations, and a drone demonstration, as well as two electric vehicles parked outside for the students to tour. The whole room was full of good energy that day!
Photos and video by Dylan Slagle
The students were given an experience "passport" that was stamped as they participated in activities at each table. Prizes were awarded to those who had the highest number of stamps in their passports and all students received a BGE Youth Workforce Development Day certificate for attending.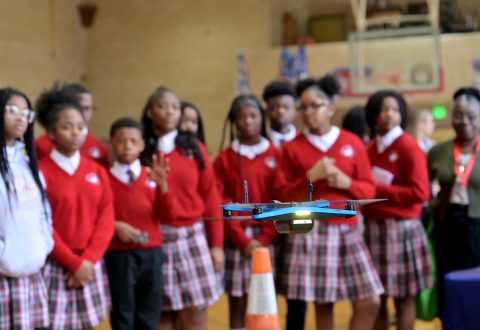 Not only did the students gain an understanding of roles and daily responsibilities at a utility company, but they also had the chance to use a variety of important skills when participating in the activities such as brainstorming, collaboration, data collection, critical thinking and more. And maybe a few of them have been inspired to pursue a career in the energy field!