A small grant has a large impact at KIPP Harmony Academy as students build indoor garden and learn the value of patience and care.
As the 'farm-to-table' restaurant trend has swept the country, a new food movement is taking hold with fourth and fifth graders at Baltimore's KIPP Harmony Academy. It's 'classroom garden-to-meal ingredient tasting' – the brainchild of KIPP teacher Pearlita Kendall.
Last year, Kendall's students built a five-tiered shelving unit complete with zip-tied grow lights and planters that they eagerly filled with soil, seeds and water. Next, they learned the value of patience.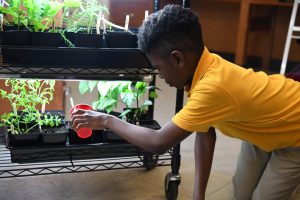 As a variety of herbs and bunches of kale began to fill the shelves with green, students learned that gardens must be tended. They weeded and sprayed the sprouting leaves with a hydrogen peroxide mixture to keep bacteria at bay. When the kale was large and hearty, dozens of small hands transplanted it to an outdoor garden space where it could thrive.
"Everyone from staff to student was fascinated," said Kendall. "Kids quickly made the connection that the dill pickles they loved were seasoned with the dill herb they were growing. And the cilantro was the same as they taste in salsa."
Many of KIPP's students lack green space in their neighborhoods and many live in areas with limited access to fresh fruits and vegetables; this project proves that anywhere can be a great place to grow your own.
"Kids need to learn the nutritional value of fresh food and understand where food comes from," Kendall explained as she recounted her childhood experience with eating fresh vegetables direct from the garden soil beneath her feet.
This year, Kendall's class plans to expand the indoor garden space to accommodate various types of peppers and small vegetables like carrots. Monthly after school meal preparation and tastings involving parents are in the works, too, thanks to a partnership with the University of Maryland.
Initial supplies for the shelving, soil, seeds and lights were made possible through BGE's Bright Ideas Teachers Grants and Kendall is eager to apply again this year to broaden this exciting science program. The K-12 Bright Ideas grants help teachers expand learning using innovative ideas in science, technology, engineering and math (STEM) and environmental disciplines.