BGE supports Bikemore's Mobile Bike Shop, which makes bikes ready to ride on the spot. The bike shops are also a place to start conversations with residents who want to make their neighborhoods safer and healthier.
The Baltimore community is filled with bikes that aren't being used.
Simple problems like a flat tire or grinding brakes can make a bike unusable. Most people lack the knowledge and tools to fix bikes. Many have no access to skilled bike specialists.
And a broken bike can create a big problem for people who don't have cars or good access to transit.
So, when the Mobile Bike Shop arrives at a neighborhood event, kids and adults run home to bring their bikes back for free repairs. In a short time, they can ride those bikes home — and continue riding them daily to school or work.
In addition, the Mobile Bike Shop is frequently Bikemore's first opportunity to start critical conversations about neighborhood livability. BGE recently made a Green Grant of $5,000 to help Bikemore fix bikes — and ultimately, neighborhoods.
Bikemore's mobile repair shop predominantly serves under-served neighborhoods in the city where children are likely to have difficulty finding transportation to school. A survey of Baltimore neighborhoods shows that nearly 30 percent of Baltimore homes have no motor vehicles. So, a well-maintained bike means more reliable school and work attendance — essential steps to economic stability.
Bikemore estimates the mobile shop fixes about 20 bikes at every event. The organization hosted eight bike clinics last year — and its goal is to hold 20 a year.
The Mobile Bike Shop solves immediate, practical problems. But it also is an important way to build relationships — and to empower people to advocate for safer communities.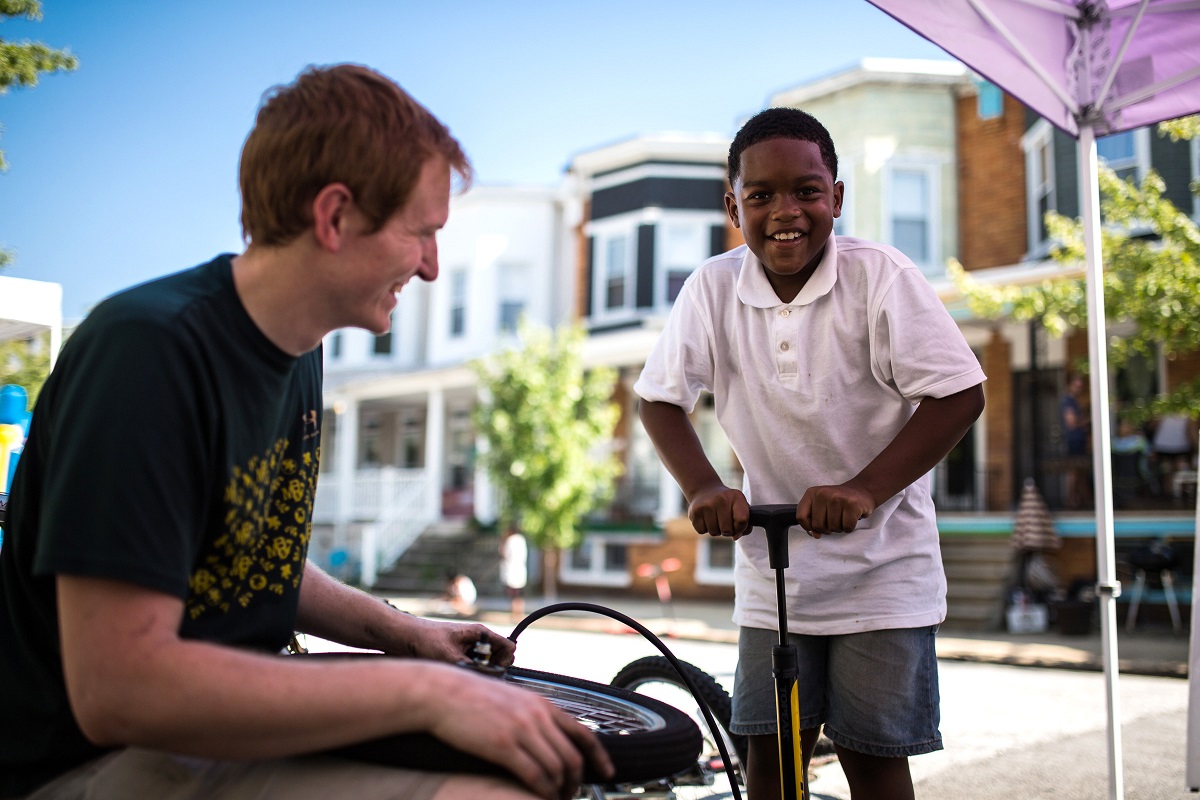 Neighborhoods across the country struggle with dangerous intersections and lack of bike and pedestrian features. Liz Cornish, Bikemore's executive director, said that in most neighborhoods, "A lot of people don't realize they can influence what happens between the two curbs. We help them learn how they can organize for change and make their voices heard."
City transportation officials make a point of visiting neighborhoods to present infrastructure plans — but most often, only after the decisions have been made. Cornish said Bikemore's approach is to find out in advance, "What are the transportation issues people in the neighborhoods see? What are their values?" And Bikemore helps residents learn the tools and tactics they can use to influence policies and projects.
Creating safer conditions for walking and biking can have citywide – and even worldwide – benefits. Locally, single occupancy vehicles are a major source of air pollutants. Globally, transportation is a major source of carbon emissions.
But, Cornish said, "If a transportation method doesn't feel safe, comfortable and dignified, people who can afford to will choose their cars." So, particularly in a city where transit options are limited, Bikemore sees offering people practical alternatives to driving as a critical way to address environmental hazards.
To sum it up, Cornish said, "Think of a problem, and I can tell you a way that a bicycle can help."
Learn more about Bikemore and its work – and  how you can get involved – here.
Feature image courtesy Graham Coreil-Allen/Bikemore
===
Now in its seventh year, the annual BGE Green Grants program has benefited hundreds of innovative community projects with more than $2 million in charitable giving from BGE. Grants range from $500 to $10,000. Organizations that receive a Green Grant are located in BGE's geographic service area and use their award for a project that falls into at least one of BGE's environmental focus areas: conservation, education, energy efficiency, pollution prevention, and community engagement. Prospective grant recipients must be 501(c)(3) non-profits with a board of directors and must meet additional criteria to be eligible.