In just 30 minutes, electric vehicle drivers can now fully charge their cars in Carroll County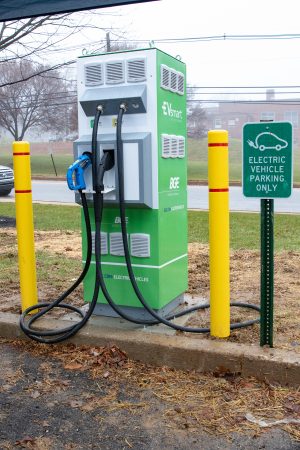 The first DC Fast Charger in BGE's EV charger network was officially opened for business during a ribbon-cutting ceremony hosted by the Carroll County Board of Commissioners.
The County worked with BGE to install the DC Fast Charger and two L2 chargers in the parking lot at the main County Office Building locates at 225 N. Central Street in downtown Westminster. Additional chargers will soon be installed at the Eldersburg Library, North Carroll Library and Carroll Community College.
"We appreciate our partnership with Carroll County and are excited to have our first DC Fast Charger installed here," said Megan Eaves, external affairs manager at BGE. "Once our network is fully built out across central Maryland, we hope that drivers will see electric vehicles as a viable transportation alternative."
More information on EVs, chargers, and federal and state incentives can be found at bge.com/electricvehicles.