The Ravens home playoff matchup this weekend is a significant event for the team and its fans—and BGE. Here's what we do before kickoff to ensure service reliability on gameday.
Josh Kraft read the job safety briefing as the sun rose behind him.
"It's the day after a holiday, so everyone remember to stay focused," Kraft said. He and two of his fellow BGE distribution transformer testers, Michael Yost and Daniel Whitcraft, along with their supervisor, Zach Mitchell, were staged in the shadow of M&T Bank Stadium for one reason: the success of the team that plays inside.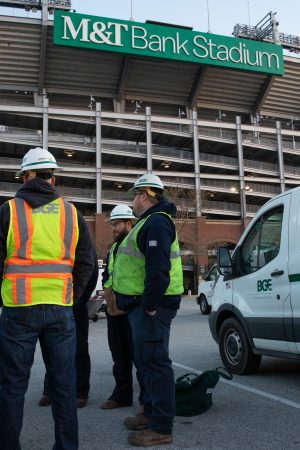 The Baltimore Ravens are the number one seed in the AFC playoffs. That means they play at home this week, and again next week if they win. It also means anticipated peak electricity demand at the stadium on Saturday for a nationally televised game. To ensure service reliability during this game and during other marquee, highly attended festivities in central Maryland, BGE stands up a 'Significant Event' planning process to check, test, and repair (if necessary) electric and gas equipment in advance of proverbial kickoff.
That's what brought the crew from BGE's Electric Diagnostic Repair Unit (EDRU) to the D lot this chilly Thursday morning over the winter holiday.
"We wanted to get the inspections done as soon as possible so we'd have eight days, rather than eight hours, to address any issues we found," said Mitchell, who oversees EDRU.
His team inspects and performs proactive and reactive maintenance on equipment linked to underground electric lines. Two underground circuits from a nearby substation supply M&T Bank Stadium with electricity, which is delivered to the stadium's electric room where Maryland Stadium Authority-owned electric distribution equipment receives the feed and breaks it into operable voltages to run myriad systems throughout the 71,000-seat venue. A BGE capacitor enhances resilience.
EDRU carefully and methodically checked this equipment. Yost and Whitcraft opened and closed a series of doors—one by one—along a row of gray metal boxes. With a clear view inside, they used a thermographer to look for hot spots on cable termination and demarcation points. Hot spots could indicate a component needs to be repaired or replaced.
They identified no issues, here or on similar equipment next door. "Our job scope includes M&T Bank Stadium and Camden Yards," said Kraft. Oriole Park is supplied by two circuits from a different substation. Two ties between the stadiums further bolster reliability—allowing either venue to be powered by any one of four total circuits.
"There's resilience built into this system," said Mitchell.
Resilience is a collaborative effort, which is why Significant Event planning involves teams across BGE. The process for this Ravens playoff game was coordinated by Rob Pellegrini, a sr. account representative in Large Customer Services. The Maryland Stadium Authority is among the customers in his portfolio. EDRU had a significant role, along with Customer Reliability & Management, the Outage Management Unit, Distribution Construction and Maintenance, Distribution System Operations, and the Damage Prevention Unit.
Some of their work will continue through gameday. And with a Ravens win, through the AFC Championship.