Nearly 50 interns from area high schools focused on the trades will experience BGE's Smart Energy Internship from home this year, gaining skills and experience that will help them develop their career path
(above: Firew Mengesha describes his 2019 BGE internship experience to student-run media from Edmonson-Westside High School. He is returning in 2020 after graduating from Mergenthaler Vocational-Technical High School in Baltimore City.) 
The past four summers have seen interns from area high schools at BGE's facilities gaining experience in their chosen vocational tracks – computer aided design, automotive technology, pre-engineering, or construction. This summer, COVID-19 and required social distancing measures nearly derailed the on-site and heavily hands-on program.
But the company's workforce development team quickly adapted the program so that students can learn from home.
"We had to find a way to continue this internship, as it's part of our year-round Smart Energy Workforce Development program and we are committed to helping students develop themselves and explore BGE as a potential career opportunity," said Kitty Glick, who is facilitating the internship program for BGE. "This summer will look different than previous years, but the students get to engage with leaders at BGE and continue to build their networks."
During the four-week internship, students will learn about workplace readiness and professional development, and become familiar with BGE as an organization. They will also participate in classes on the Construction and Skilled Trades (CAST) test, a utility industry standard, which they can then take. Once they pass, they are eligible to apply for an entry-level position after graduating from high school.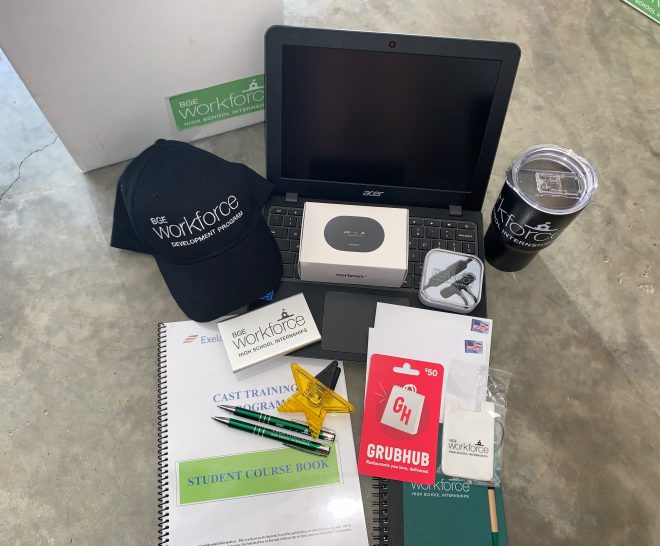 To ensure students have equal access and a smooth experience, BGE is providing each intern with laptops, mobile hotspots to facilitate internet access, notebooks, and materials that position them for success while working from home.
This internship program is one piece of BGE's innovative Smart Energy Workforce Development program, a joint effort with local workforce development agencies and schools to increase access to careers at BGE for those living in local communities.