Sparrows Point facility built to accommodate future electricity demand of 3,300-acre global logistics center and nearby residential communities; Amazon, Under Armour, Home Depot, Floor & Decor among companies currently operating on the site
Step inside any modern warehouse and you'll be surrounded by people and systems that depend on uninterrupted electricity to fulfill their role in a global supply chain.
Tradepoint Atlantic is home to a growing number of these high-tech facilities, connected to the world by road, on-site rail, and a multi-commodity marine terminal—which makes the 3,300-acre development in southeast Baltimore County one of the largest, most strategically significant global logistics hubs in the country. Amazon, Under Armour, FedEx, Home Depot, and other major companies have a conspicuous presence here, and there's still room for 15 million square feet of future development for logistics, distribution, manufacturing, and retail.
Estimated total electrical demand when buildout of the entire 'TPA' property is complete: between 85 and 100 megawatts.
"Early on, TPA's developers realized they needed more reliable electricity in the area, and they came to BGE to ask what could be done," said Lauren McKee, a senior project manager at BGE.
BGE was previously responsible for only a small part of the electric infrastructure on the Sparrows Point site because the prior property owner, Bethlehem Steel, owned and operated its own electric distribution system. BGE and TPA partnered to evaluate the existing infrastructure and determined that it would not meet current safety and reliability requirements due to its age and poor maintenance.
More than customer-owned equipment needed replacing, though. The two BGE substations that formerly served the property were built long before multinational corporations dreamed of outfitting a facility the size of 23 football fields with computer-dependent automated systems.
"In order to supply the proper amount of electricity to new TPA customers and nearby residential communities, we needed to build a brand new substation," said McKee.
BGE fully energized that Fitzell substation—sharing the name of family farmland sold more than a century ago to what would become Bethlehem Steel—in June 2020. McKee oversaw the entire project, which included planning, construction, modifying existing transmission lines, and decommissioning two obsolete substations. The work was completed six months ahead of schedule.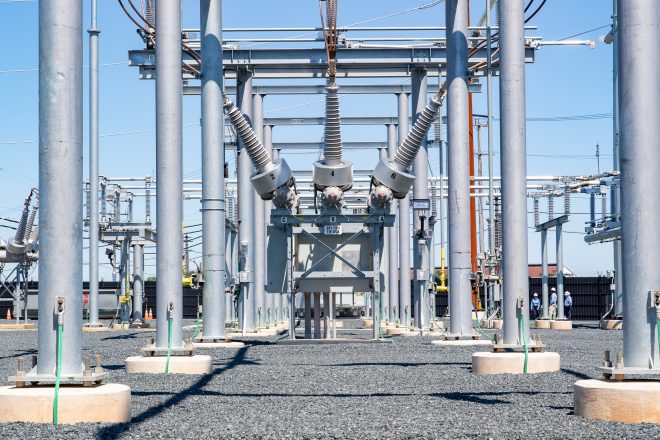 "It was a huge effort, and customers are thrilled," said McKee. "Prior to building this substation, many of the homes in the area were experiencing momentary outages and even the industries that were here were experiencing momentaries, which caused their computerized automation systems to restart.
"Fitzell provides the reliability they need to keep their operations running."
A substation steps down the high voltage of electricity from transmission lines and sends lower-voltage power to the distribution system, where it's delivered to customers. At TPA, commercial and industrial customers powered by Fitzell are expected to create an estimated 10,000 permanent on-site jobs and an additional 7,000 off-site jobs. That's why Fitzell is festooned with the latest technology and built to accommodate TPA's future electrical needs.
Long into the future, says McKee. "I expect it to be around for the next 70 years!"