East Baltimore church benefits from LED lighting upgrade–will save $2,400 in annual electric costs while reducing emissions
The future of the oldest African American Lutheran church in North America is looking much brighter thanks to a major LED lighting upgrade, powered in part by BGE's Small Business Energy Solutions Program. The green energy project at St. Philip's Lutheran Church (est. 1890), aligns with its environmental mission, according to its energetic young pastor, Louis R. Tillman, IV.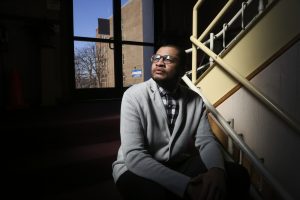 That mission includes supporting a clean and healthy life for its community.
His church on North Caroline Street in East Baltimore is bounded to the west and south by the sprawling Johns Hopkins medical campus and a high crime housing project that Tillman says, "puts us in the pocket of privilege and despair," and makes its mission challenging. Already considered a food desert, the area's one and only grocery store closed during the beginning months of the pandemic, rendering the residents' situation more dire. "There was a complete lack of PPE and what you could find was priced astronomically," Tillman lamented. "Using Zoom for our services was one thing, but our outreach mission needed to continue."
So, the pastor and his team of volunteers set about fundraising, writing grant requests, and increasing the calls for donations, determined to lift not only the congregation but the community at large. With its first $500, an assembly line of volunteers packed and distributed 15 PPE kits containing an eight-ounce bottle of hand sanitizer, 10 masks, five disinfectant wipes and three ounces of disinfectant spray.
As efforts continued and word spread, partly through the church's active social media presence, more money rolled in and soon funded 75,000 kits. Distribution help came by partnering with another nearby African American church, First Baptist, whose affiliation with the Baltimore City food access planner allowed kits to be included in food boxes for needy families. The Eager Park Neighborhood Association also stepped in to distribute 300 kits.
Some of their fundraising was then targeted toward the lighting upgrade project.
Tillman's way with words and compelling logic has put climate change and green actions front and center in the minds of his congregation, in just the two short years since he arrived in Baltimore from Virginia. A mission-based church since its inception, its members are now seeing even more tangible benefits of their commitment. (Tillman also recently endorsed the Energy Innovation and Carbon Dividend Act pending before Congress.)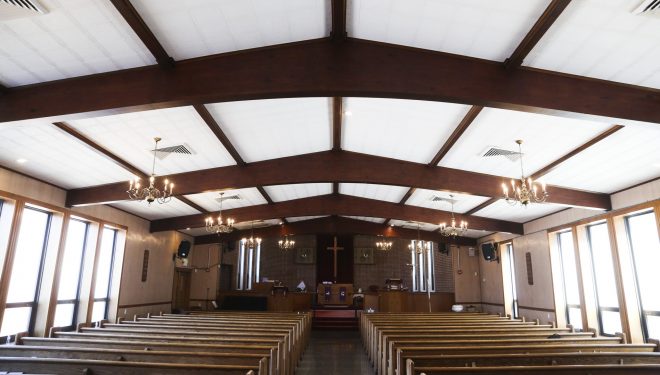 The LED lighting project brings many benefits to the church:
crime deterrence – as the bright lights discourage trespassing;
a reduced carbon footprint – LED bulbs use less energy and last longer so less waste goes to landfills;
lower electric bills – which produce extra funds for some of the church's pet projects, like a community garden to help fill the gap when food boxes run dry; and, educational scholarships for at risk youth that covered books and non-tuition fees for 30 college students so far this school year; and,
a return on their investment of less than three years, with a projected cost savings of approximately $2,400 annually.
The lighting upgrade to the interior and exterior of the two-story, 14 room facility was completed in just one business day by CS Koida Construction, with the help of the church's property management team led by Nicole Woolford and Earl Todd. "The fluorescent fixtures were all replaced along with the bulbs in the chandeliers. The crew was very efficient and organized," said Todd. "It's impressive how bright it is."
According to Tillman, even the program application process was easy.  To apply on behalf of your organization, go to https://bgesmartenergy.com/business/business-programs/small-business-energy-solutions.