"It has been more rewarding than any paycheck I've ever earned."
A small herd of six rescued horses at Freeland, Maryland's Timberbrook Farm were joined in late 2020 by a new, seven-month-old Percheron draft horse named Sergeant Exelon, dubbed by his owner Chelsea Whitaker in honor of the grant she received that helped purchase him for a very special purpose. All of her horses have the important job of providing equine therapy to people with all kinds of disabilities, from autism to blindness. Whitaker, who runs the farm, is a dog trainer and occupational therapist with a certificate in Autism studies. Her plan for Sergeant Exelon, a breed known for its calm, unflappable demeanor, is to teach veterans how to train him to become a therapy provider like his stablemates.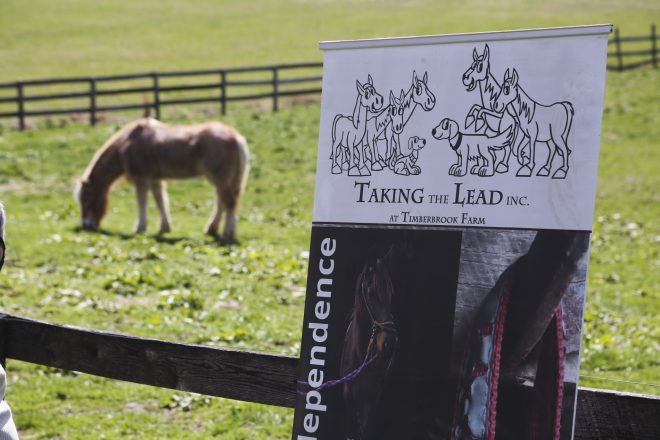 Chelsea's mother, Conchita Whitaker, is a BGE gas dispatcher whose dedication to volunteering at her daughter's non-profit, Taking the Lead (www.takingthelead.org), earned it an Exelon grant of $10,000 in July of last year. To qualify for the grant program that began in 2011, an employee must devote 50 or more hours of volunteer time to one organization.
"The money came just in time," explained the elder Whitaker. "When COVID hit, we shut down like everyone else. No clients beginning in March and for several months through the summer. Meanwhile, the horses still needed to eat and have their hooves trimmed and receive vet visits." Further, she said, Exelon was keenly aware of the hardship the virus restrictions placed on non-profits who depend on every dime of income they receive to remain operational.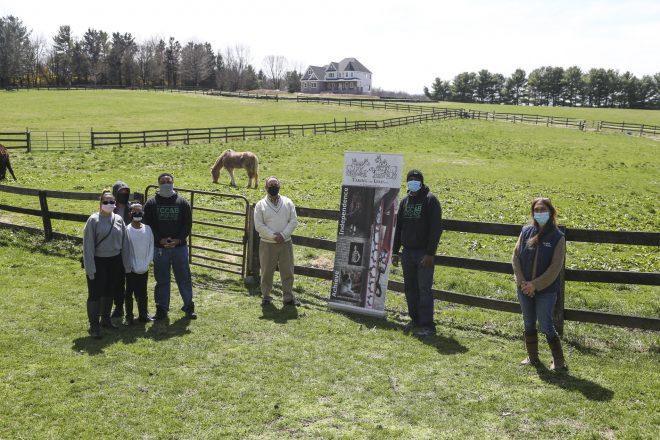 The farm also applied for and received another grant from the Maryland Veteran's Service Animal Program in January 2021. These funds will help Chelsea create a new veteran's outreach 10-week course to train the horses to be a better fit for clients' individual needs. "We envision the veterans connecting with the horse, building a relationship and setting training goals. This in turn can help the veterans set new goals in their lives, as they see the horses being socialized, being motivated to learn and succeeding at new skills," Conchita elaborated.
Other in-kind donations in the form of physical labor have been invaluable to the previous growth of the program and the condition of the farm. In 2019, a group of 20 BGE employees donated a half day of time and labor to repair fences, replace and paint boards, dismantle stalls, enlarge the riding arena and clean up debris.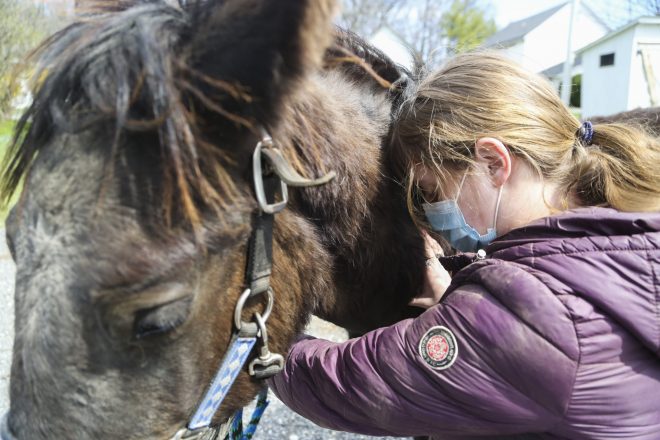 "Since the perimeter of the arena has been painted white, one of our visually impaired clients can discern the boundaries and it helps her ride better," explained Conchita at the time. "And meeting employees whom I have worked with for years but never met was a real treat!"
Timberbrook Equine Therapy Farm has reopened now that masks and social distancing guidelines are clear, but only about 75 percent of its clients have returned for therapy. Conchita explained that some have underlying conditions that make it too risky to return yet, but vaccines offer the promise of returning to full capacity.
Both Whitakers are optimistic about the farm's future in spite of recent challenges. "It has been more rewarding than any paycheck I've ever earned," said the elder Whitaker of volunteering at the farm. "I heard a nonverbal boy say his first words on horseback. As a parent, the joy of giving another parent hope is indescribable."