BGE and Lyft teamed up to give drivers the option to rent an EV through Lyft's Flexdrive Platform.
In July 2022, BGE's EVsmart team launched an Electric Vehicles (EVs) ride-hailing program with Lyft. The program, designed to help Maryland achieve its goal of reaching 300,000 Zero Emissions Vehicles on the road by 2025, receives partial funding through a Department of Energy (DOE) Community Program Grant, provided by the Mid-Atlantic Electrification Partnership.
Through the program, BGE and Lyft are rolling out 25 Kia Niro EVs for Lyft drivers in the greater Baltimore area to rent through Lyft's Flexdrive Platform. Drivers can rent one of the cars for a discounted weekly rate instead of driving a personal vehicle.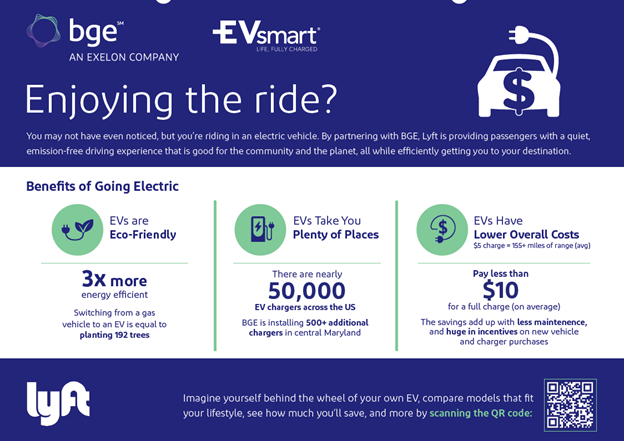 By electrifying rideshare vehicles, BGE is building a cleaner, healthier community by supporting the conversion of gas-powered vehicles to all-electric. Since a ride-hail vehicle driver likely drives 3-5x more miles annually than a someone in a personal vehicle, this switch results in additional clean, emissions-free electric miles.
This program is also an opportunity for Lyft riders to learn the benefits of EVs. BGE includes educational materials within the vehicles to provide customers with helpful details on the benefits of driving electric. These materials highlight the impact on the environment, EV charger accessibility, and cost-savings compared to a gas vehicle.  In addition, passengers can access BGE's EV Calculator to help them compare their current gas vehicle to a variety of electric vehicles.
To support EV adoption and charging, BGE is installing advanced DCFC chargers (150kW) that can fully charge EVs in under an hour throughout the Baltimore City area. BWI airport, a major hub for ride hailing activity, already has a portion of these chargers installed.
In addition to the chargers installed as part of the Mid-Atlantic Electrification Partnership, BGE is installing 500 chargers across its service territory, creating a Public Charging Network.  This network makes charging more accessible to EV drivers.