"They're the electric company. I hadn't thought of BGE in any other way," Lynette Dodson says. "As I've gotten to know them more, I realize that community is important to BGE. They have really stepped up in that regard."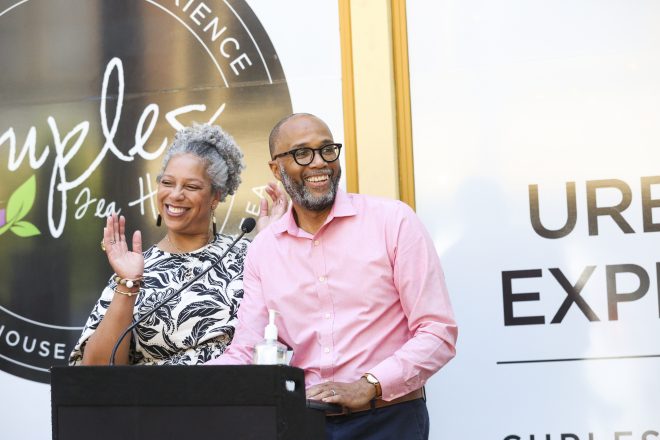 Cuples Tea House brings people together. On any given day, you will find folks sitting over a steaming pot of tea, connecting. It's no surprise, then, that the couple behind this Mount Vernon shop fell in love over their own steaming cups.
Like tea steeping in hot water, Lynette and Eric Dodson's connection grew stronger with time, resulting in a happy marriage and a flourishing business partnership.
According to Lynette, bringing the "Urban Tea Experience" to Baltimore took a lot of advance work. First, they researched and learned everything there was to know about tea—and continuously educated themselves about new varieties. Then, they began selling loose-leaf teas at the Fells Point Farmers Market to a growing group of fans.
They also hosted curated virtual tea tastings during the pandemic and sold tea online. Then, in November 2021, the couple was finally able to open their first brick-and-mortar storefront with the goal of bringing together art, culture, and community.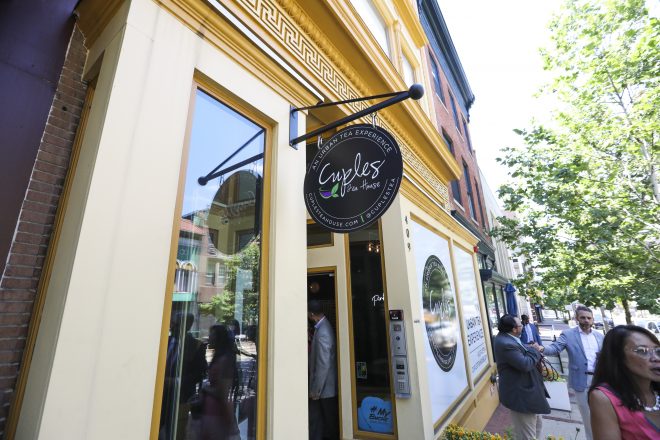 "We call it 'Cuples' not just because we're a couple, but also because of the act of cupping, sitting down over a cup of tea, and having that interest in common," says Lynette. "I love the feeling when people walk in the door, and people say this place is so warm and comfortable and inviting."
For example, says Lynette, one young lady comes every Saturday. "She invited an older couple to sit at her table. Another girl came in; she had her sit at the table. Co-workers joined in and sat down, too. That way, a whole table of strangers became friends."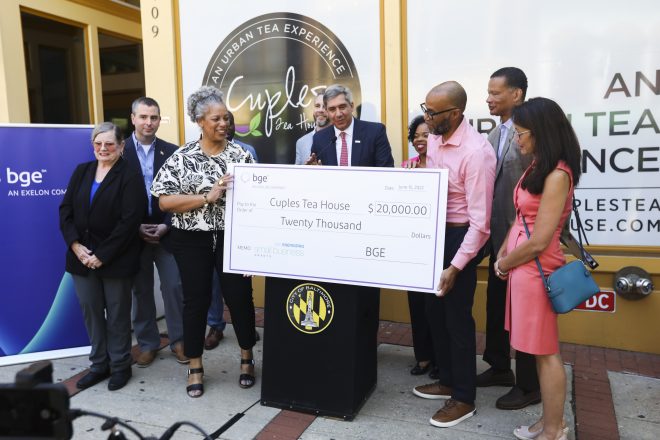 Now, thanks to the BGE Smart Energy Business Grant, Cuples Tea can continue to grow what they've built. One of 100 small businesses to receive a $20,000 grant in June 2022, Cuples Tea has big plans for the future, including expanding its shop, operating a mobile tea truck, and buying property for a second location. 
Opportunity-making is what the BGE Smart Energy Business Grants program is all about, according to BGE President and CEO Carim Khouzami. "Small businesses are the backbone of Maryland's economy, and their success is our collective success," he says. "We're proud to support small businesses of all types so that they can recover and ultimately thrive."
The BGE Smart Energy Grants Program embodies BGE's values of diversity, equity, and inclusion: Nearly 69 % of grant recipients are businesses owned by women or gender non-conforming people; 69% are people of color; and 20% are affiliated with the military. In addition, approximately 10% of recipients are LGBTQ+ or disabled.
BGE also partnered with Hello Alice, a free, multichannel platform that helps businesses launch and grow, and the Global Entrepreneurship Network (GEN), a Washington, DC-based organization that supports entrepreneurs throughout the U.S. and around the world, to maximize the impact of this multi-year grant program. All applicants gain access to Hello Alice's free COVID-19 Business Resource Center and opportunities through GEN to ensure consistent support and mentorship to all business owners.
According to Lynette, before hearing about the grants, she hadn't considered BGE as a funding source for Cuples Tea. "They're the electric company. I hadn't thought of BGE in any other way," she says. "As I've gotten to know them more, I realize that community is important to BGE. They have really stepped up in that regard."
"It's wonderful that BGE can be that catalyst for folks. I'd encourage anyone to apply."