"I was born, raised, and educated in Baltimore and I have built Fabpro into the only minority-owned precision metal fabricator in the Baltimore area. The BGE Energizing Small Business Grant will support our acquisition of new, energy efficient production equipment." — Antoine Hutchinson, owner of Fabpro Technologies
Eight-eight small businesses located in central Maryland received $20,000 small business grants through BGE's Energizing Small Business Grants program to help with pandemic recovery. Two more application periods will be open to additional companies in 2021.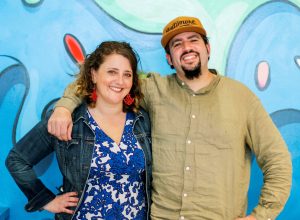 "This grant is instrumental for our business," said Laura and David Alima, grant recipients and owners of the Charmery ice cream shop. "We want to use 2021 to hone in our business further – make organized and thoughtful changes to our business so that we can explode into 2022 with a completely fresh start and ready to take on even more business!"

Of the 88 recipients (click here for a full list of recipients), 26% are in the food and beverage industry, 14% in healthcare and wellness, 12% in professional business services and 10% in beauty and self-care. A majority of the grants went to small businesses owned by historically marginalized groups and a full 82% have fewer than 10 full-time employees.
"Small businesses are a vital part of Maryland's economy, creating jobs throughout the state—and they unfortunately bore the brunt of COVID-19's economic fallout. BGE's Energizing Small Business Grants program is critical to helping stabilize local businesses and the communities we serve," said BGE CEO Carim Khouzami. "These grants also complement our Customer Relief and Energy Infrastructure Investment Plan that freezes customer rates in 2021 and supports more than 26,000 jobs in Maryland."
This program is part of BGE's $15 million pledge to assist small businesses with COVID-19 relief and recovery and is a multi-year commitment expected to run through at least 2023.
"I am beyond pleased to be a recipient–it couldn't come at a better time. I will be able to catch up on my deferred rent payments, keep my place of business, and also bring back some part time help." — Elaine McCloud, president of Ambrosia Caterers.