"Ever since I was a young kid, I had an interest in it," Pedri says. "Lighting was fascinating to me."
BGE Senior Electrical Instructor Steve Pedri is undimmable. He's been shedding and spreading light for more than 38 years. Pedri's passion for it showed up early—an inspiration to children everywhere who like to tinker, take things apart and put them back together.
"Ever since I was a young kid, I had an interest in it," Pedri says. "Lighting was fascinating to me."
Pedri's career began in 1984 at BGE's White Marsh Training Center. Since then, he has been a lineman, doing everything from meter work and gas-leak response to repairing electrical street lighting and restoring emergency power to homes and businesses. Ask Pedri about his work and his enthusiasm is clear. It's not just a job; it's his passion. "It can be dangerous work," he says. "You have to love it."
"Safety is first and foremost. And at the end of the day, you also have to have passion. It's not always about the money," Steve says. "Once I landed at BGE, I knew this is where I wanted to be, wanted to stay. You've got long hours; you miss holidays and weekends. But there's a reward when you help a customer out.
Pedri parlayed his immense experience on the line into a role that perfectly suits him: Senior Instructor. He had knowledge to pass on. "I took all my experience and molded it. When it comes to instructing, it's about how we treat our customers, whether internal or external. I enjoy getting the next generation up and running, creating a few more 'Steves.'"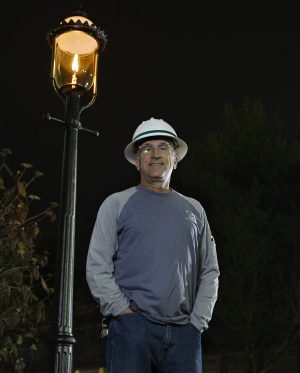 Part of ensuring the future is preserving the past. For Steve that means restoring and maintaining the streetlamp at the corner of Baltimore and Holliday Street, the first gas streetlamp in America. "When I came in 1984, I learned about this light. I went down there and saw it was in dire need of attention. So, I got permission to do something about it. I went ahead and fixed it and periodically do maintenance. As long as I'm here, it will be burning."
And, hopefully, for far longer. Pedri, an electric instructor, is working with the gas instructors to guarantee the next generation keeps up the good work. "I make sure they have the right folks in place to maintain the light. As long as that light is lit, it symbolizes what BGE stands for, it reflects the people who've worked here and taken care of our customers for 200-plus years," Pedri says.
Pedri's dedication extends beyond equipment to community. "At BGE, we do a lot of volunteer work, whether to fix up a home, serve meals, donate gifts. We're out there in many different ways," says Pedri. He, alone, has donated 15 gallons of blood over the years to the American Red Cross. "BGE's not just about work. It's a family. You're with the people you work with more than you're home, sometimes. You're surrounded by great people doing great things at work and outside in the community. "
Pedri is still as passionate about light as he was as a kid: "Who will maintain this light once I leave here?" Pedri has installed a gas lamp in the White Marsh Training Center to use as a teaching tool. And he still loves to tinker, finds old traffic lights and light bulbs and traffic lights on eBay, strips them to the bare metal and restores them. He's sustaining history.
"The relationships I've built over the years, the friendships, the memories. When I retire, I'll miss the job, but the most important thing I'll miss is the friendships—seeing and talking to my BGE extended family."
BGE is one of the most recognized companies in Maryland, and a leader in developing talent while providing rewarding careers. A career at BGE means you'll be at a place where you are respected for your knowledge and skills, acknowledged for your commitment and hard work, and given the opportunities to advance in a variety of fulfilling roles. Learn more about working for BGE by visiting the Exelon career site.
Like this article? Click here to let us know your thoughts.