CISBOT gives BGE a more cost-effective way to repair and rehabilitate a century-old gas main in the heart of downtown Baltimore with no disruption to customers
On a brick walkway a few feet from the curb, Jeremy Carden points to bright, spray-painted markings at his feet.
"Red is electric, orange is communications, yellow is gas, green is sewer, blue is water," said Carden, a senior engineer in BGE's gas division. Directly beneath him among this thicket of utility lines is a leaking joint—a connection bringing two sections of a 100-year-old, 20-inch cast iron gas main together. The leak is not an imminent threat to safety or reliability but needs to be repaired.
It's also not a surprise.
Material used to seal these joints when the pipe was installed a century ago dries over time, causing small, minor leaks. Some leaks are more serious and necessitate immediate attention.
This leak, just west of Baltimore's inner harbor, is one of them. The presence of several other underground utilities near the problem joint challenged Carden and the BGE Gas Distribution team to consider innovative solutions.
"Obstructions make it very difficult to get in and fix the leak with conventional methods," Carden said.
Enter CISBOT, a robot that enters the main and seals each joint from the inside. CISBOT is a less expensive, less disruptive approach to repairing large-diameter cast iron pipeline joints, and it was the right fit for this project for a few reasons.
First, obstructions from the other pipes and wires ruled out traditional excavation and encapsulations – there just wasn't space for this method. Second, this section of pipeline featured joints positioned every nine feet and CISBOT allowed BGE to inspect and proactively repair multiple aging joints along the way.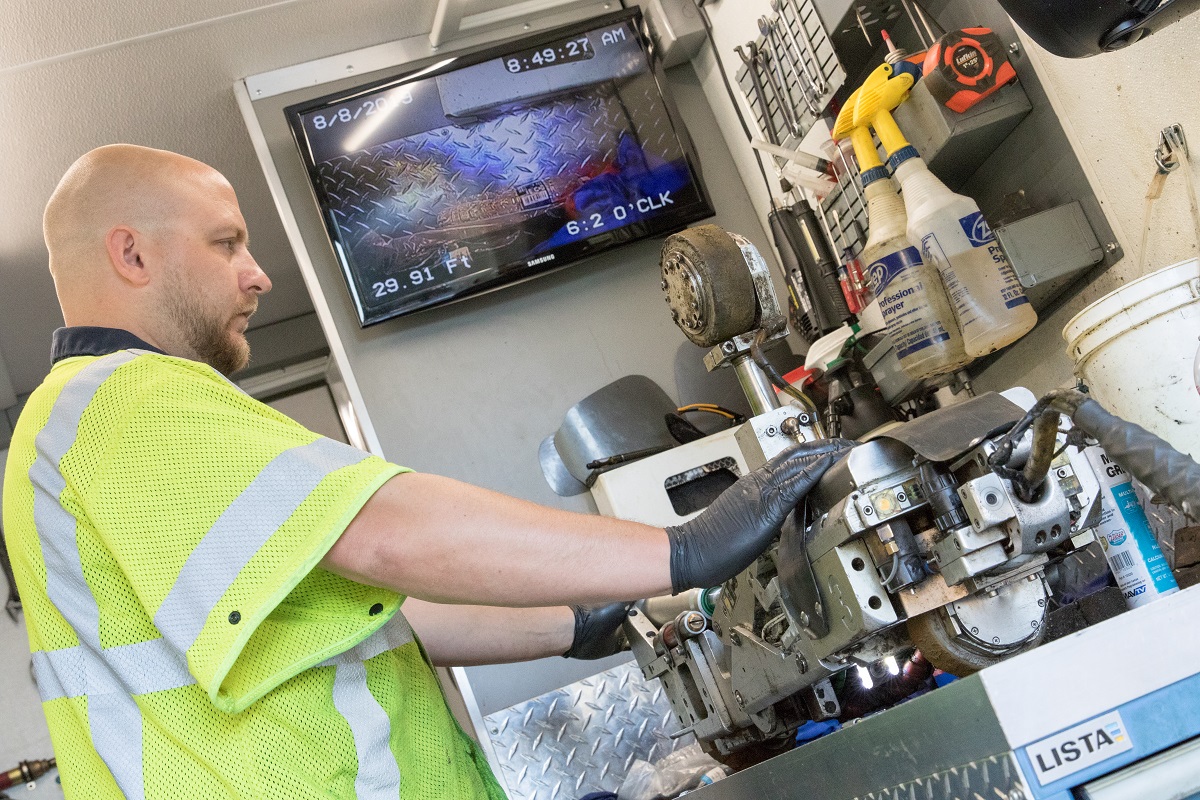 BGE was also able to complete the job with just one trench placed on a wide area of sidewalk for the CISBOT launch tube, and New York based ULC Robotics operated the robot from a specially designed truck staged directly north. This meant no closed streets, no sustained noise, no new trench at each leaking joint.
"If you're in a major metropolitan area, you're not going to be able to excavate a 20-inch gas main in the heart of the city. It's just not a feasible option," said Chris Anderson, a program manager in field operations for ULC Robotics.
Over two weeks in August, a three-member ULC Robotics team inspected and mapped 850 feet of main with a variable geometric crawler robot and sealed 94 joints with the CISBOT. Their process is efficient: from a small control panel, pilot and co-pilot guide CISBOT along every inch—and all 360 degrees—of its subterranean pipe journey. Their eyes underground? Several mounted cameras, which send video feeds to the truck.
Perhaps the most impressive difference compared to traditional repair methods is that gas continues to flow while CISBOT works—meaning no BGE customers lose service.
That uninterrupted flow of gas also helps the team measure their progress in real-time. Small holes, called "bar holes," are drilled down close to the main and are monitored to sense if gas is leaking. The readings were substantially reduced after the joints were sealed, indicating that the repair had worked.
"We combined a reactive leak job with a proactive rehabilitation of this gas main," said Carden, who managed the project for BGE.
CISBOT leak remediation extended the life of this section of pipe by 50 years. BGE will eventually replace the main through the company's ongoing STRIDE gas system modernization project, but completing rehabilitation work now enhances the reliability of a critical energy supply line while infrastructure is built to replace that capacity. And the cost to fix 94 leaking joints with CISBOT is significantly lower than the cost to excavate and encapsulate them.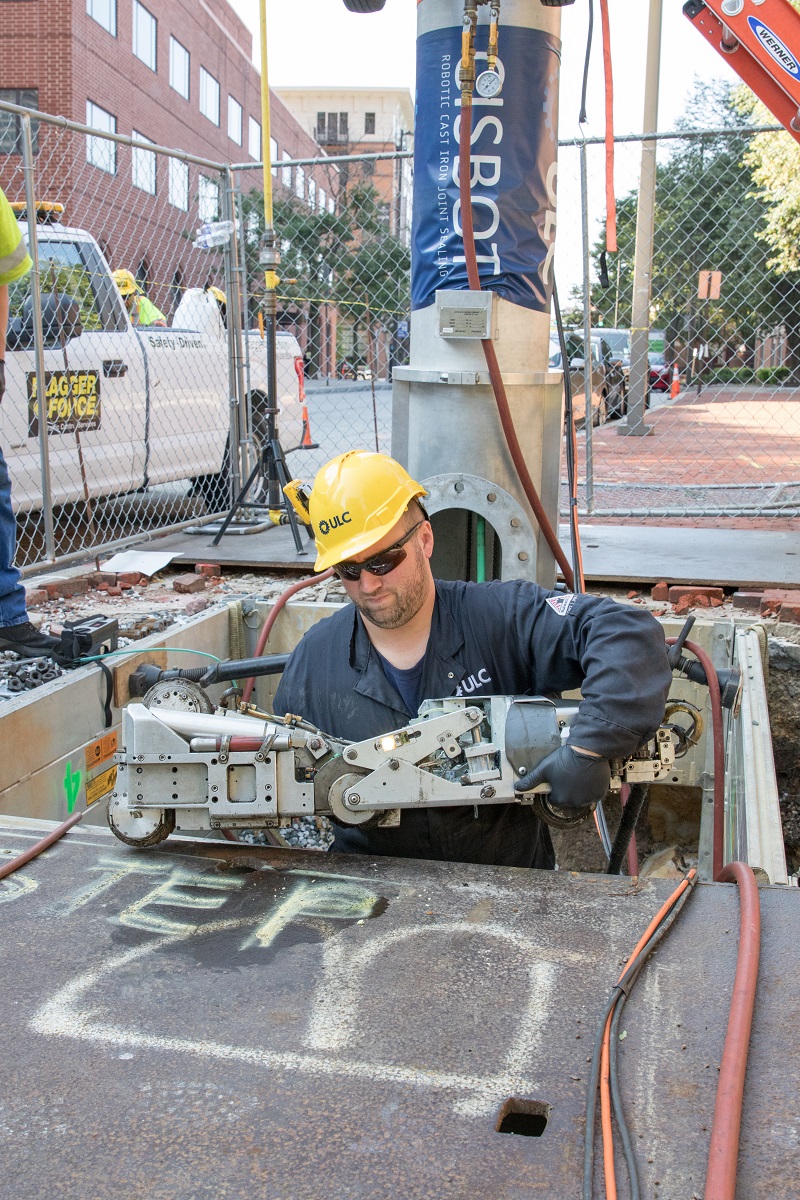 "BGE has over 100 miles of large-diameter cast iron main. Replacing those assets is understandably a long-term effort," said Kevin Nelson, a manager of reliability programs at BGE. The company is on pace to replace within 20 years all of its cast iron and unprotected steel gas mains in favor of durable, high-density polyethylene pipe that doesn't have mechanical joints.
"While we work toward that goal, CISBOT technology can be an important tool in maintaining safe service to our customers," said Nelson.
This project was the first successful CISBOT work performed on the BGE system. The BGE gas division is already planning a second, larger project below a stretch of busy road in east Baltimore. With CISBOT, traffic and gas service will continue, and gas reliability and safety will improve.
===
Check out this video of BGE piloting robotic gas main repair from a few years ago. Featured in the video is BGE President and COO Steve Woerner as well as Harry LeBrun, who skillfully led the installation, maintenance and repair of the gas network before he retired from BGE. Sadly, Harry passed away in 2019 and he is missed. We hope he would be proud to know the work he pioneered to make gas systems safer and more reliable is being used today.