Legal and bilingual staff from Exelon, BGE, and Constellation volunteer their time to make vital legal services accessible to vulnerable members of the Baltimore community. Christia Ravenell, assistant general counsel at BGE, reflects on her experience.
In July 2019, the Exelon legal department held its annual Baltimore "All Hands" pro bono event, focusing this year on immigration legal services. The clinic brought together volunteers from BGE, Constellation, and Exelon to provide guidance on immigration relief options and assist individuals in completing mandatory renewals of Deferred Action for Childhood Arrival applications. The 65 volunteers included lawyers and legal staff along with bilingual members of the Organization of Latinos at Exelon (OLE) employee resource group, who served as interpreters, and partners from the Catholic Charities Esperanza Center. Nearly 40 people received vital legal services—free of charge.
Among the volunteers was Christia Ravenell, assistant general counsel at BGE. She and her colleagues spent time listening to the experiences of those who attended the event and suggested what relief (i.e., a path to their staying in the U.S. legally), if any, they could pursue. Those who had no available relief were given valuable information as well.
"There are folks who prey on people who are uninformed," said Ravenell, who earned her law degree from Georgetown University and has worked at BGE for three years. "They'll say, 'If you pay me $5,000, I can get you asylum,' and we're empowering them to recognize they're being scammed. They know they've seen an actual attorney who told them they don't have any relief at this point – that they might in the future, but not yet."
One man Ravenell met immigrated to the United States more than 20 years ago, but he came illegally and is trying to determine how to stay. "For all intents and purposes, he would be a model citizen," said Ravenell. He's had a stable job for many years, he's married to someone who sought asylum, he has two children excelling in school. He's spoken to multiple experts, and each time he's been told there is no relief. When members of his family were killed in a tragic accident in Mexico, he couldn't return to his home country for the funeral.
"If I leave the U.S., I'll never see my children again," he told Ravenell. She determined he still has no immediate relief. She advised that maybe when his children are of age, they can petition for him.
"That's six years out and even then, isn't guaranteed," she said.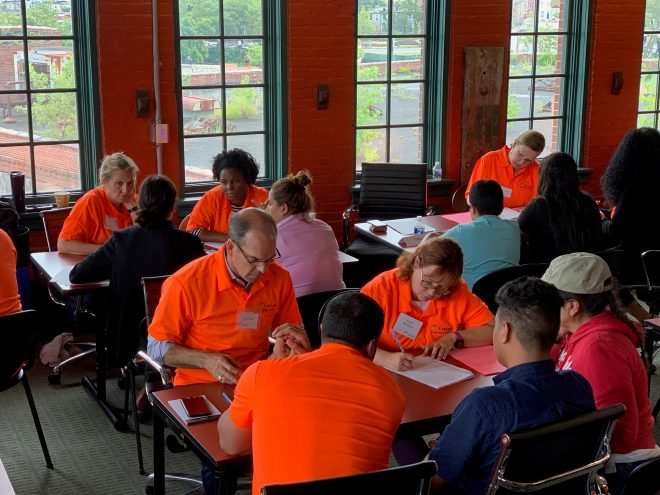 Ravenell and BGE's other attorneys and paralegals regularly look for opportunities to do pro bono work through organizations that need it most. FreeState Justice, which provides free legal services to members of the LGBT community, is a perfect example. FreeState Justice partnered with BGE to train attorneys and legal staff on filing petitions for name changes and legal decrees of gender identity. Ravenell took on a case in 2017 and has since then taken on another, participated in a FreeState-sponsored wills and advanced directive clinic, and helped with Pride festivities.
"These opportunities are a big part of why I enjoy working at BGE," said Ravenell. "Having not just the support, but the encouragement, to take on these pro bono activities is not something you find everywhere." She says pro bono work is a challenge for a myriad of reasons: often you don't have the time or malpractice insurance necessary to help people on your own.
But when you have the structure through your company, it's a natural fit and highly rewarding for those who are eager to make a difference. Ravenell's experience with her first FreeState client, who was in her early 20s, was valuable far beyond legal services.
"When we met there was a bit of confusion. She thought I was an assistant, not the attorney on the case," Ravenell said. "When I clarified, she stated she'd never met a Black female attorney, and she didn't know they were out there. That's the additional benefit: showing disadvantaged communities that there is representation and real paths for people who meet all of these intersectionalities."
Planning is already in progress for an Exelon-sponsored clinic in partnership with FreeState sometime soon.