The American Gas Association expects customers may see lower residential gas bills this winter… but no matter how you heat your home, you can use these tips to help lower your bills.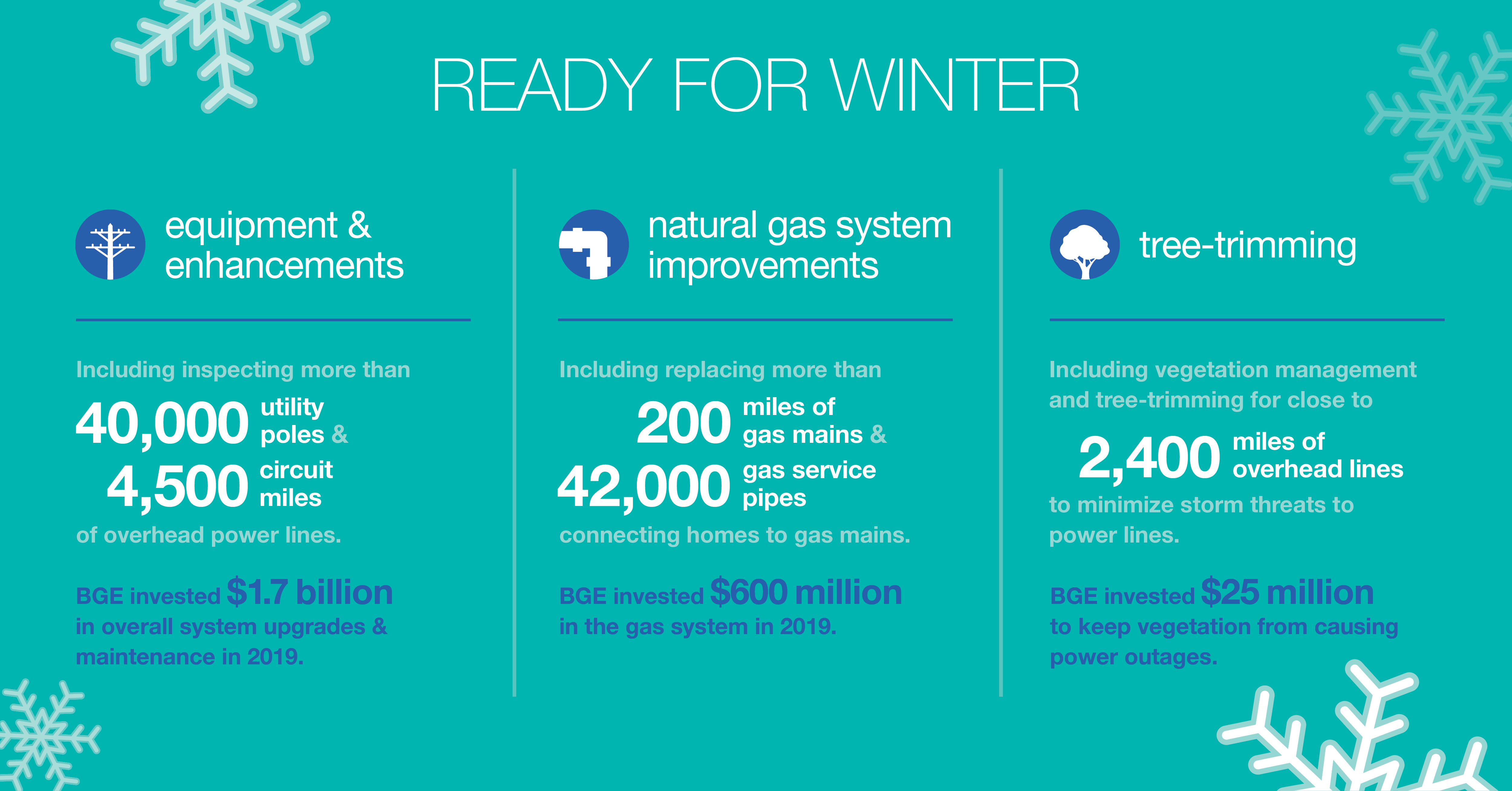 BGE works every day to ensure our equipment and people are ready to handle anything Mother Nature brings to Maryland. But, as temperatures dip, we encourage our customers to prepare for cold weather with us by following these tips:
Maintain Your Heating Systems – Most of your cold weather energy expenses are related to heating your home. Schedule service for your heating system to find out what maintenance is required to keep your system operating efficiently.
Lower Your Water Heating Costs – Water heating accounts for about 18% of the energy consumed in your home. Save money by turning down the temperature of your water heater to the warm setting (120°F).

BGE crews and contractors maintain the company's equipment year-round.

Adjust the Temperature – When you are at home and awake, set your thermostat as low as it is comfortable for you. When you are asleep or out of the house for an extended period of time, turn your thermostat down 10° to 15° for eight hours and save around 10% a year on your heating bills. A programmable thermostat can make it easy to schedule your temperature settings. If you have a heat pump, maintain a moderate setting or use a programmable thermostat specially designed for use with heat pumps.
Use BGE My Account Online Tools – Your BGE online account offers helpful tools and detailed energy usage information. By tracking your energy usage right after you use it, comparing usage trends, and discovering the results of energy-saving practices, you can manage your energy more efficiently. Log on to BGE.com/MyAccount to get started.
Sign up for High Usage Alerts – Receive a notification by phone, email, or text if your energy usage is trending higher than usual so you can take steps to reduce your use before your bill arrives. You can also set a budget threshold to alert you when your bill is projected to be higher than a specific amount each month. Log in to My Account to sign up for High Usage Alerts at BGE.com/MyNotifications.
Keep Your Natural Gas Appliances' Vents Clear – Know where your natural gas appliances vent to the exterior and ensure the vents are clear. Some high efficiency gas appliances, such as water heaters and furnaces, vent along the foundation of buildings. If these vents become blocked by snow or ice, exhaust may back up resulting in carbon monoxide build-up or a release of natural gas.
BGE customers are encouraged to visit bge.com/alerts to sign up and receive updates on their energy usage and information regarding power outages via text, email, or phone call. You can also text "ADDOUTAGE" to MYBGE (69243) to enroll in the two-way texting program to report outages and check the status of outages that occur. Customers can also download the free BGE mobile app for iOS or Android.