"One group created a podcast from a discussion about one of the books they read in class."
At Mary Moss @ J. Albert Adams Academy in Annapolis, a room designated Maker Space might be mistaken for a garage sale with its odd combination of tools and equipment. This alternative, project-based learning schoolroom has an array of drills, saws, computers, sewing machines and more recently, a mini music studio. The Academy was created through a merger of two schools and now serves students who have been removed from their original school for behavioral reasons.
Students in grades six through 10 use the space for all types of projects, from making their own musical instruments to recording original songs in the studio.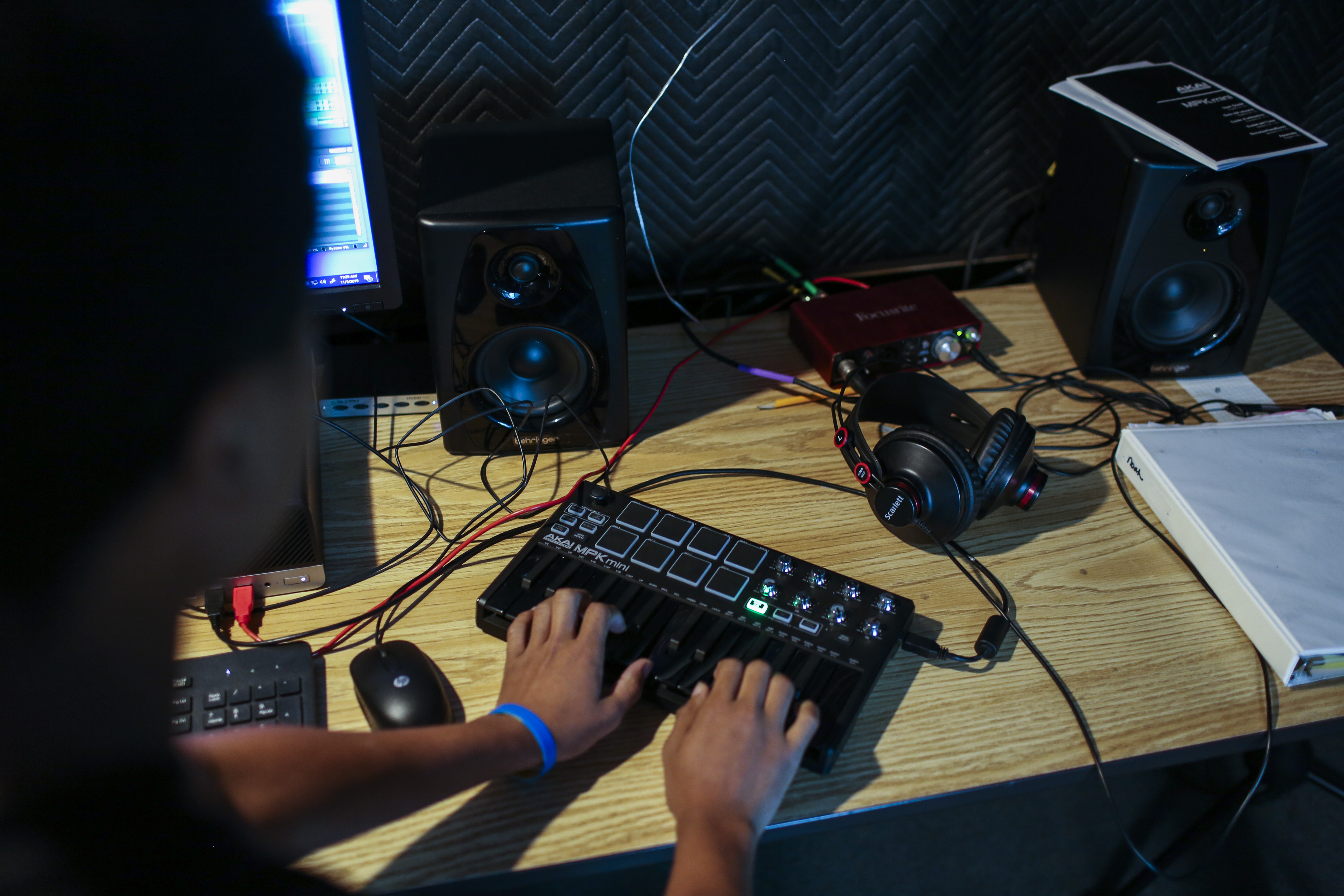 Curious students are invested in the "space within a space" they built from PVC pipes and moving blankets. Some are drawn to the performance side of it, others to the technical production aspect.
Performers have recorded the National Anthem, which was broadcast over the morning announcement system, and a holiday song playlist that others could download to boost their spirits. Another group recorded beats with their own lyrics to put online. More cerebral performers have chosen podcasting as their preferred format.
"One group created a podcast from a discussion about one of the books they read in class," said Marcus Zumwalt, the school's media specialist, who has taught for 12 years and was among the original staff when the school was created five years ago."
"Some work hard to earn the privilege to spend all their free time in the studio," explained Kate Snyder, a project based learning coach at the school. She is a 20-year teaching veteran who also is an original staff member.
The performers are supported by others manipulating Mixcraft, the software that enhances production values. A former student support services staff member, whose hobby was music mixing at home, provided guidance on the mixing board and helped students make their creative ideas reality.  The school also had a visit from a former student, currently a professional music producer in Hollywood, who shared the realities of his career and assisted a group of budding technicians.
About 150 students have tested their talents in the mini studio since it was made possible by a BGE Bright Ideas Teacher Grant. The grants of up to $500 support in-classroom projects that support science, innovation, energy efficiency, or the environment. In total, BGE has donated more than $72,000 to teachers in its service area.