In Baltimore County, two volunteer fire departments are responsible for ice rescue emergencies, which require hours of training and specialized equipment. And that equipment doesn't come cheap.
As soon as the weather gets cold, a small and dedicated group of volunteer fire fighters and EMS crew members run through ice rescue training scenarios on Baltimore County rivers and lakes. This training is crucial for the Bowleys Quarters and North Point-Edgemere Departments, which respond to about 10 calls involving ice or maritime rescues a year.
"We train and prepare, as well as recruit new firefighters, because when an emergency happens, we need to be ready," explained Joseph P. Walters, III, lieutenant, Maritime Ops at North Point-Edgemere. "But we can't do these kinds of rescues without personal protective equipment."
Time is of the essence when a person falls through the ice. Hypothermia can set in within minutes. "There is what we call the 'golden hour,'" Walters said. "It is imperative to get first aid in that timeframe, otherwise the result can be tragic."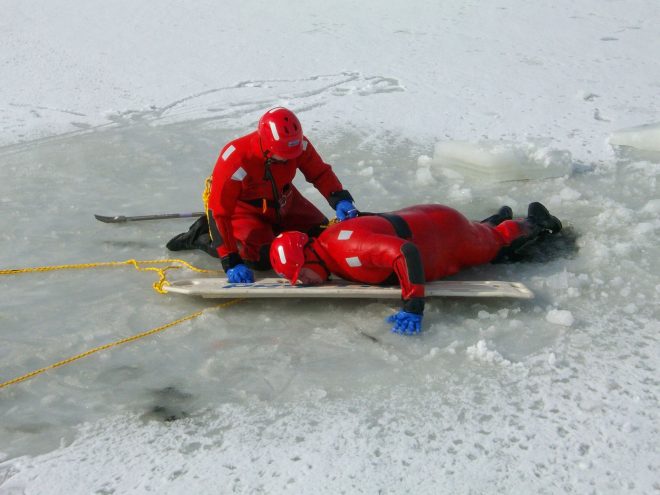 Thanks to BGE Emergency Response Grants, these brave crews have more of the equipment they need to save lives. "We've got ice rescue suits, gloves, boots, helmets, and an inflatable boat. All the water-related outdoor equipment takes a beating much faster in the elements, so we need to replace and upgrade it more often," said Walters.
The ice rescue teams feel mostly prepared for whatever weather this winter brings. "The vast amount of shoreline and inland waterways, along with lower gas prices, causes the number of boaters to increase, and that is predictable," observed Walters. "But the weather is unpredictable."
There are still a few things on their wish list this season. Some new technology, a 360-degree underwater sonar to help locate people under ice, upgraded navigation equipment, and more trained fire fighters.
They recruit from high school programs where students receive college credit for attending training. The classes are free through the University of Maryland. "Once Fire Fighter 1 or EMS training is complete and you have college credits, then we train you up to volunteer," Walters added. "It's not for everyone, but we love it. And, thanks to BGE, our efforts are appreciated."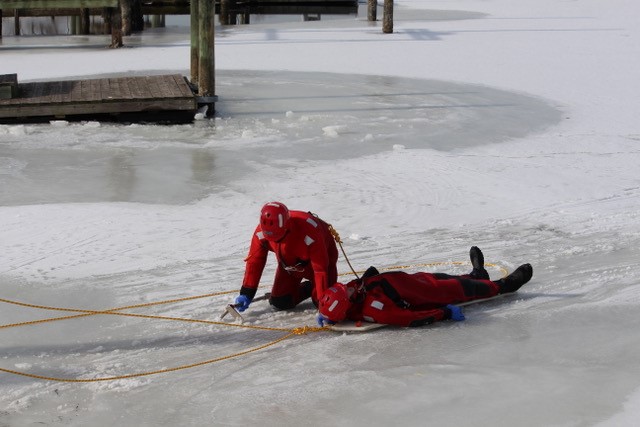 __________________________________________________________________
BGE's Emergency Response and Safety Grants program supports nonprofit emergency response and public safety organizations throughout BGE's service area. To date, BGE has provided nearly $2.5 million to 398 emergency response organizations, which share BGE's commitment to the safety of central Maryland residents. Grants of up to $10,000 are available for eligible 501c3 organizations. In addition to supporting the emergency responder community in Maryland, BGE provides training for fire, police, 911 centers and emergency management organizations who routinely work around utility equipment.