Dre Mills is starting his career as a heavy truck mechanic after exposure to job possibilities through BGE's Smart Energy Internship program
Dre Mills graduated from Edmondson-Westside High School in spring of 2019, and on July 1 of that year he started a paid internship with BGE's Smart Energy Internship program. Then, at the start of 2020, he began training as a full-time BGE employee, where he soon will be certified to work on heavy automotive equipment.
Dre's skills and determination, coupled with creative partnerships between Baltimore City Public Schools and BGE, have helped a young man establish himself on a solid career path. And he's little more than a year out of high school.
Drawn to cars
Dre remembers watching his dad, a former Air Force mechanic, working on his own cars. "I would just sit and watch and observe." Well before he could drive, he was drawn in by the allure of motorized vehicles – and that fascination still holds.
"I love vehicles. I like their performance, their luxury, their style – and I value them as a way to get around. And you can't really enjoy them unless you know how to fix them," Dre said.
From high school to Smart Energy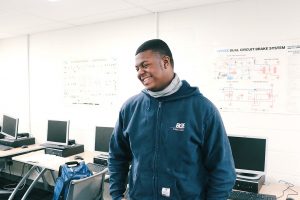 Dre graduated from Edmondson-Westside High School, one of the career-oriented schools with which BGE has partnerships.  Given his interest in cars, he completed the school's automotive technician program.
Dre was one of the students from BGE's partner high schools to become a Smart Energy Intern. Interns spend several weeks getting an overview of BGE's utility operations and day-to-day work life. At the end of the introductory period, Dre was assigned to work with Kevin Harris, a master mechanic who gave him hands-on experience and guidance working on the utility's fleet vehicles.
Dre said Kevin "showed me a lot. And he let me try to figure things out on my own. He'd say, 'Give it your best shot.'"
And he was always there for guidance if Dre ran into a dead end. Kevin encouraged Dre's curiosity about how things work.  A favorite phrase was, "There are no dumb questions."
Welcome to BGE
Dre made a great impression on the people he worked with. Frank Hyman, who trains utility mechanics, said, "I heard about this young man with a superb work ethic. I heard nothing but wonderful things about him."
So BGE invited Dre to come to work as a trainee. Dre is now preparing to earn his Automotive Service Excellence certification, which will allow him to work on BGE's heavy truck fleet.  Part of training involves an intense classroom program that provides plenty of opportunity for trainees to read, learn, test their knowledge and discuss the challenging parts of the curriculum. The small cohort of six allows for safe social distancing while still giving the trainees a chance to learn from each other.
More than mechanics
Dre is soaking up everything he can about the working world and how to succeed in a corporate setting. He's gaining knowledge that extends far beyond the auto shop.
He has learned to set goals. And he understands how his daily actions can help him prepare for future career opportunities.
For example, he understands the importance of demonstrating his commitment. "I always show up to work on time, and I take on any assignment – even if I'm not sure what I'm doing," knowing that he's surrounded by a support network to help him out.
And he knows the value of networking.  "Every chance I have to meet someone new, I ask, 'What's your name? What department do you work in?' You never want to pass up the chance to make a new connection."
He also has learned to "be thankful. I know that this is an opportunity that many others don't have."
Having observed Dre during the first seven months of training, Frank said, "Dre is a well-rounded young man. He's focused on what he wants to do – and that's to be a mechanic.  That's a rarity these days."
Dre has a thirst for information about his field and a commitment to succeed. Frank said, "I see him having a great future here at BGE!"