An innovative summer externship program gives teachers on-the-job experience they can translate to classrooms
After the economic turbulence of the Great Recession, Kibwe Shelton "wanted to train in something that would always be needed." So, he earned journeyman apprentice status and spent years installing commercial and industrial plumbing. 
It wasn't until he helped his wife open a driving school that he learned he liked working with young people as much as he liked working with his hands. So, he was delighted with the opportunity to help Mergenthaler Vocational-Technical High School (Mervo) restart a plumbing component in its construction program. 
Reworking a curriculum last used eight years earlier, Kibwe developed a combination of classroom and hands-on learning approaches to introduce high school students to plumbing skills.   
After this past school year, he learned about the Maryland Chamber of Commerce Foundation's Teacher Extern Program, which matches teachers with local businesses whose employees need the skills taught at Mervo and other Baltimore City high schools.  
The program assigned Kibwe to BGE. There he experienced natural gas field work, learned the range of utility careers and came to appreciate the strong safety culture that underlies every aspect of the company's operations .
"I've had a number of professional experiences in my lifetime," Kibwe said. "This was probably the best one I've ever been exposed to." 
Lessons learned.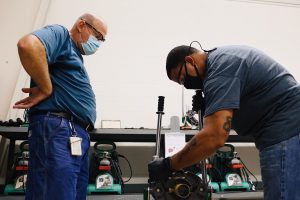 At BGE, Tim Slater introduced Kibwe to the utility world and gave him real-life experience in natural gas operations. Tim is a BGE Gas Operations manager. 
Kibwe spent his first days at BGE gaining an overview of corporate operations – and the value the company places the safety of employees and the public.   
"It's all about safety at BGE. I spent five days just learning their safety protocol.  And then I went into the field, and I heard the same message from everyone I met." 
At every job site, Kibwe learned the practice and the importance of the daily briefing. At the beginning of every day, an employee provides an up-to-date review of the site, alerting employees to specific circumstances and potential risks.   
Kibwe said, "At every job I visited, someone would stop me and tell me what to be aware of: things like the weather, possible hazards, nearby construction — and what to do if anything goes wrong." 
This impressed Kibwe so much that he will incorporate the practice in his lessons. Each day, one student will be responsible for briefing the others: what they are working on that day and what to watch for; what to do if the computer breaks down; what's the exit plan for a fire drill. "They'll be prepared to start every day in a formal, work-like manner." 
Kibwe also was impressed at the range of utility careers he saw at BGE.  "I thought utility work was just people digging trenches and climbing poles."
He learned about the approximately 150 job categories at BGE – from truck driving and mechanics to dispatch and engineering.  
Yet another message to take back to Mervo students considering their post-high school options.  
Plumbers generally receive some training in natural gas, usually limited to installing equipment inside a building and connecting it to the meter. His BGE experience showed him how to work on larger natural gas installations. "I learned about the different pressures in the gas system, and I learned how to work with plastic pipe," a modern standard.  
And after watching skilled employees working on steel pipe, "Now I want to learn to weld," Kibwe said.
Kibwe also spent time observing the work with poles and wires on the utility's electric side. 
Great for the company.
Tim Slater has been with BGE for 32 years, much of them spent leading the company's gas operations training programs. And over the years, he and the company have found it harder to find job-ready employees to work in the field.
Maybe it's the culture, he said. "It used to be your dad would say, 'let's go out and we'll change the starter on the car.' Now it's, 'let's take it to the mechanic.'" 
And many schools have cut vocational and technical training. More graduates leave school without the basic skills once taught in shop classes. So, Tim and BGE are eager to encourage hands-on learning. In addition to supporting high school training programs and offering internships, BGE was happy to help Kibwe inspire his students through the externship program. 
Tim enjoyed showing Kibwe how to fuse pipe. "As long as you follow the steps, anybody can do it. But if you skip any steps, it won't work."  Once Kibwe completed fusing pipes, Tim showed him how to test the connection to see if it would withstand 150 pounds of pressure explaining, "That's how we verify safety." 
Once students are attending classes in person, Tim will be bringing fusing equipment into the Mervo classroom. "We'll let them try it and build their confidence in working with natural gas pipelines."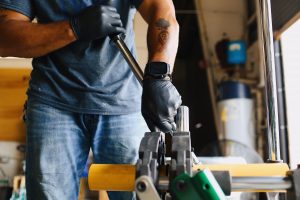 Enriching the community.
"A teacher touches the lives of many every year. They reach their students, but they also have the opportunity to talk to parents, to other teachers and to guidance counselors." 
That's why Whitney Harmel, vice president of Membership and Development at the Maryland Chamber of Commerce, is so excited about the Teacher Extern Program.  She knows Maryland employers want to help students prepare for the work world in any way they can. 
As happened with Tim and Kibwe, the program creates relationships that continue through the school year.
"It's been such a beautiful experience.  It brings the work world to life; it brings real-world experience — and it shows kids so many possibilities. We're bridging the gap between education and business," said Harmel. 
The second summer of the Chamber's program paired four teachers with local businesses. An engineering teacher was placed at a civil engineering firm, while another was at a tool manufacturer. A math teacher studied cyber security work at another firm. 
Whitney knows that Kibwe will spread the word about the range of interesting utility careers that can be lifelong. 
"Kibwe is the kind of man that you hope your kids have the opportunity to learn with. He truly believes that he was put here to enrich the lives of kids in Baltimore."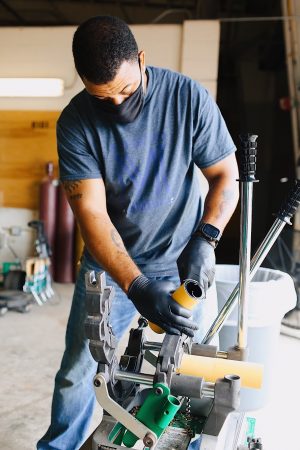 The big takeaway
.
For Kibwe, a lasting impression of BGE is how open the culture is to teaching and mentoring.
Of his month at the utility, he said, "The training program is awesome. I've never seen one as detailed and extensive. You start in the classroom, then you spend time in the field, then go back to the classroom before returning to the field." 
Everywhere he went, he said he was encouraged to ask questions. No questions were too simple or too basic, and employees always made him feel comfortable. They said, "If you have a question, ask it. We'll stop the job and get your question answered."   
Kibwe said the first sections of his school year curriculum focus on safety protocol and other elements that can be taught online. He's hoping that schools will reopen in time for the students to get hands-on experience with plumbing tools.
And he's particularly excited about opportunities for them to interact with BGE — from classroom instruction to chances to observe utility work in person.
_________
Baltimore City schools are remote-only to start the 2020-2021 school year. Kibwe has put a lot of thought into how he will adjust this course to online learning.
"Remote schooling has a huge impact on my program, as we aren't able to get hands on experience. But, this also presents the perfect opportunity for me to incorporate what I picked up from BGE this summer. I'm preparing forms for us to do daily safety briefings. A different student will present the briefing each day.
BGE has a YouTube channel that we'll explore and I'll also be uploading videos of various tasks explaining the process from start to finish. We'll also focus on construction math and work on soft skills like punctuality, job readiness, accountability and, employability.
Safety will be our primary focus now, and when we get back into the classroom!"
He's hoping that schools will reopen in time for the students to get hands-on experience with plumbing tools.
And he's particularly excited about opportunities for them to interact with BGE — from classroom instruction to chances to observe utility work in person.