After spending most of the summer break at BGE, three teachers are demonstrating how the skills students learn in high school can transfer to utility jobs.
Vocational and technical education teachers bring plenty of firsthand experience into their classrooms.
For example, Chris Scholz of Patterson High School has spent years renovating houses. Charles Fleet of Edmundson Westside High used to run his own auto repair shop. Mark Kather of Western School of Technology was a landscape architect before going into teaching.
So, they already know what skills, knowledge and attitudes will prepare students for career success. But a month at BGE opened doors to information and opportunities for all three.
The Maryland Chamber of Commerce created the Teacher Extern program, pairing hands-on-learning teachers with local companies. As BGE externs, the teachers learned how students can apply the skills they are developing to energy industry jobs. And they all came away with a greater understanding of utility career potential.
Scholz said he's going to make sure "the kids know that with the skills they are developing, they can walk out of here into great, family-wage jobs."
What's new in transportation.
Charles Fleet is familiar with career opportunities at BGE. One of his former Automotive Technology students, Dre Mills, became a full-time BGE employee after participating in the utility's high-school internship program.
So, the teacher wanted to experience for himself the day-to-day management of a utility fleet.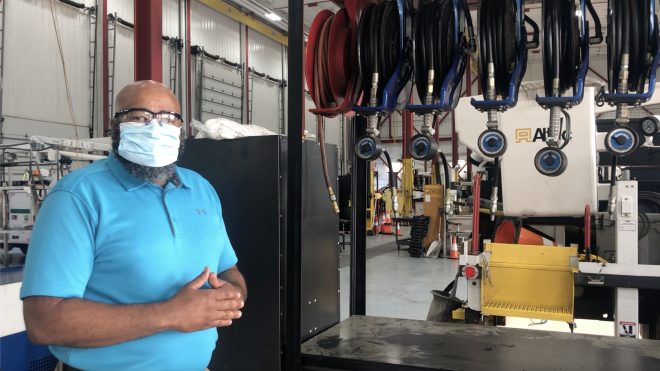 An eye-opener for Fleet was the extent to which BGE is moving toward electric vehicles. "They are thinking about electrifying 60 percent of their vehicles by 2030." So, he hopes to develop an EV curriculum at Edmonson Westside High School. He also would like to acquire a heavy-duty diesel vehicle so his students can experience working on trucks like those used in utilities and other businesses.
Fleet observed BGE's electric tractor and learned about a system in trucks that lets the crew operate electronics with the engine turned off – preventing the wear and tear, as well as pollution, caused by idling.
"BGE is actually pioneering," he said.
The environmental focus.
Mark Kather teaches students how to use geographic information systems (GIS) for environmental management.
For example, Kather's students collect stream water to analyze pH levels, nitrate concentration, turbidity and other components. Combining these measurements using GIS helps them determine water quality and design ways to improve stream health.
During his weeks with BGE's Environmental Management Team, he learned new ways to apply the technology he teaches to daily business needs.
During an environmental audit, he observed consultants evaluating BGE facilities. They were checking compliance with regulations over hazardous material use and storage, as well as other issues. So, Kather is now planning an exercise in which his students conduct an environmental audit of the school grounds.
Kids in Kather's classes often find repetitive testing to be boring. But BGE is constantly monitoring, "doing regular testing year after year. It's the only way to determine if there's a problem. So that's a lesson I can take back to my classroom."
Kather observed how BGE incorporates environmental protection into every step of its procedures. "Every construction staging area is managed from a stewardship point of view. They are very proactive."
Where utilities meet builders.
Chris Scholz's program is called "The Homebuilders Institute," in which he familiarizes students with every aspect of planning a new building – from the concrete to the roof trusses, from plumbing and electrical to green building certification.
These are all areas familiar to Scholtz. But the BGE experience introduced him to the utility's perspective.
He came away impressed by many things: the complexity of the permitting process; the way technology makes every part of the utility's planning and construction system transparent; and particularly how BGE personnel work closely with developers to find safe, efficient solutions that meet the builder's needs.
Scholz worked closely with Caitlin Harvey, who leads BGE's design team. She said, "I loved hearing Chris talk about teaching toward the type of work employees do here: taking examples from what we do in real life to practice in class."
Scholz hopes to obtain MicroStation software, the program BGE uses, to give his students the most relevant experience for utility work.
Values, partnerships and respect
The teachers learned as much about BGE's values as about its operations.
"Every meeting starts with a safety pitch – whether it's how to minimize sun exposure or something more technical about operations," Kather said.
Scholz mentioned observing every driver walking around a vehicle before getting in to be sure it complied with all safety regulations. And, he said from now on, "My kids will wear hard hats and safety glasses."
The teachers are also impressed by BGE's commitment to diversity and inclusion, something else mentioned in every meeting. Kather said, it's easy to see that the employees are bought in to those values. "They respect the drivers of the BGE culture."
The teachers were happy to go back to school knowing they had a new pool of partners. They are looking forward to BGE employees visiting their classrooms for demonstrations. Their students will go on BGE field trips to get their own first-hand glimpses of company operations.
Kather said he asked everyone he worked with about becoming a resource for his students, "and they all said yes."
Scholz was moved by the respect shown to teachers at every step of the way, beginning with a stipend from the chamber for the externship. "That meant a lot, as did all the responses from the men and women I met there who thanked me for what I do."
From BGE's perspective, the extern program speaks directly to fundamental values: maintaining a workforce of excellence while strengthening connections to the communities it serves.
Harvey knows that many Baltimore area students aren't able to continue their education after high school, so she is delighted to know that students like Scholz's will be prepared to move into design jobs at BGE.
"I love to see opportunities for those who might not have them otherwise. If you want to be an engineer but don't have the resources, you could start here and use our tuition reimbursement program," for higher education. "They can move up in lots of different ways," she said.
"It's not just a job, it's a career."