Launched in September 2019, the BGE Workforce Collaborative provides a training program in partnership with Civic Works, for individuals who are interested in pursuing a utility infrastructure career.
BGE and Civic Works celebrated the September 2023 graduating class from the BGE Workforce Collaborative, and the program milestone of graduating the 200th person since the program's inception!
In 2019, BGE and Civic Works partnered to form the BGE Workforce Collaborative – an intensive, two-month job training program that focuses on under-employed or unemployed adults who are interested in pursuing a utility industry career. The program provides technical training, job readiness and related skills-training to prepare program graduates to begin a career the utility industry. Participants are also connected to a network of potential employers during the program.
Civic Works' Center for Sustainable Careers recruits and screens participants, administers the program, and provides two years of retention services after graduation. BGE connects its network of contractors to Civic Works and the program participants, funds the program, and ensures graduates meet the standards necessary to work on the utility system. Program participants who successfully complete the program requirements have the opportunity to interview for full-time positions with BGE contractors and other industry partners.
Upon completing the program, participants earn on average 10 industry-related certifications, such as OSHA safety qualifications and equipment operator certifications, and are equipped with the necessary skills to begin a career within the utility industry.
Since September 2019, over 200 individuals have graduated from the program with approximately 90 percent beginning careers shortly after graduation with BGE contractors or other utility contractors. They earn on average a starting salary of $38k.
The large majority of program participants were unemployed at the start of the program and through completion of the program launched into a new career path with tremendous growth potential and long-term stability.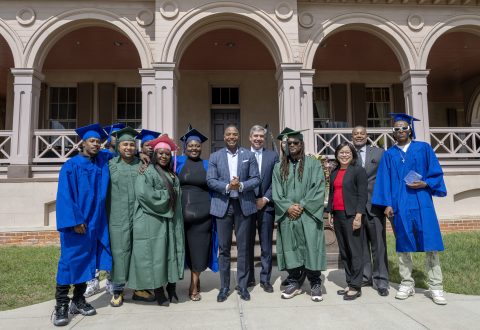 The video below celebrates the 100th graduate in 2021.
Produced by Rei Perri
Learn more about BGE's Workforce Development Program.