BGE and contractor crews navigate unique complexities of proactive natural gas infrastructure work more than 70 feet off the ground
Nestled in the bowels of the Severn River Bridge, affixed to steel that carries Route 50's roaring traffic above and provides clearance for boaters puttering along the Chesapeake Bay tributary below, there's a high-pressure gas main that has been part of Tim Falls's family for three generations.
It started in the mid-1950s with his grandfather Dan Ligon of Ashton, Md., who led the pipe installation project for utility contractor Ligon & Ligon—the family business and one of the first gas contractors to do work for BGE. He then repurposed wooden scaffolding from the construction site to build his daughters a barn.
"My mother and my aunt wanted steers for 4H," said Falls. "I recall my grandfather telling me the story about where the wood came from but didn't think much of it at the time."
Nearly 70 years after Dan Ligon installed the original pipe, Falls is managing its complete decommissioning and replacement—all 2,900 feet from shore to shore, plus another 1,850 feet of main approaching from the west—as Ligon & Ligon's vice president and senior superintendent. The company is BGE's prime contractor for the 18-month project expected to be finished in late 2021. The work plan this time around bears little resemblance to its predecessor.
"This is one of the more unique projects that I've been involved with," said Falls. "We went through many different rounds of looking at the bridge. Should we use barges? What about trucks? And we built a scale model of the bridge to figure out where the pipe could go."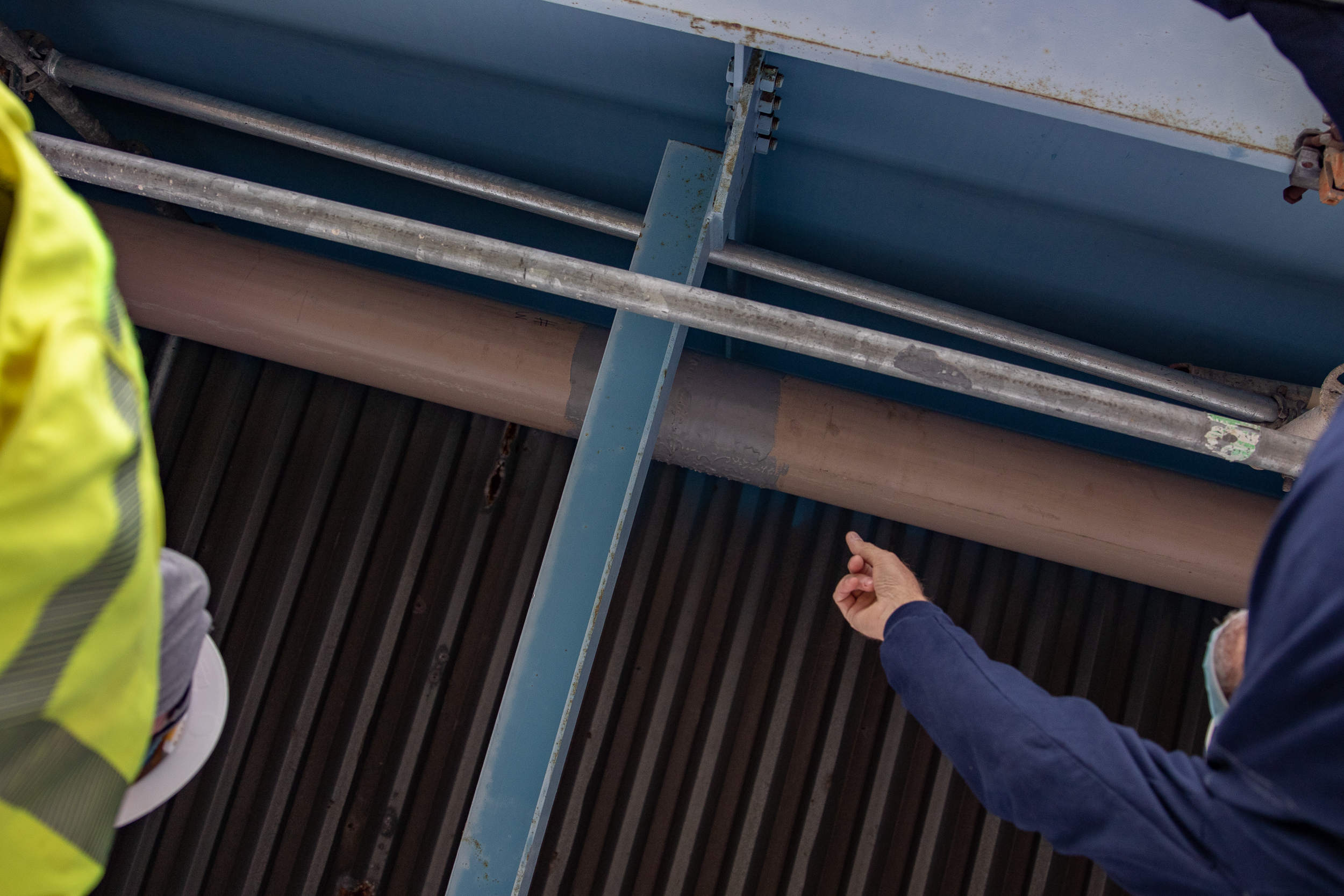 Every detail matters. Upgrades to this segment of distribution main will improve reliability and capacity (i.e., system redundancy and load) for 6,000 natural gas customers around Annapolis. The pipe ties together two feeds that bring gas service to the area. "On critical days when it's cold, or if there's damage on one feed, you need that extra feed in order to supply customers," said Tim Slater, manager of development in gas engineering and program management at BGE. But for a raft or reasons, the old main is nearing the end of its useful life. BGE gas crews cannot access the pipe to perform inspections or maintenance because the catwalk had to be removed after deterioration rendered it not structurally sound. This is problematic for the safety and reliability of any energy equipment, let alone thousands of feet of pipe susceptible to corrosion where outmoded, brittle protective coating has crumbled over several decades. And at only 6 inches in diameter, the pipe is a bottleneck when customer demand spikes.
The new pipe will resolve those issues and more. It's larger in diameter for increased capacity to better meet the needs of gas customers on peak energy days, and a durable epoxy coating will mitigate the risk of corrosion. To access and repair the old pipe—located closer to the middle of the bridge—when the catwalk was intact, BGE crews had to shut down multiple lanes of traffic on the Severn River Bridge/Route 50. The new pipe's positioning under the eastbound side of the bridge means inspections and maintenance require no catwalk, fewer resources, and minimal disruptions—only a knuckle boom truck parked in the shoulder and a gas mechanic with no discernable fear of heights.
Until switchover when it is abandoned in place, the old pipe will remain operational—and dependably so, as BGE's proactive investment in improving reliability progresses across the Severn River in 20-foot sections of 8-inch steel.
"We're watching something that's pretty incredible being built," said Rich Pasko, project manager in BGE gas construction who is overseeing the work from start to finish.
Months of planning and site preparation preceded the incremental pipe installation. The most visible indication is a maze of temporary scaffolding affixed to the entire length of the underside of the bridge, 75 feet above the water. Invisible are the designs, permits, environmental precautions, safety measures, bespoke pipe hangers, makeshift welding room, and 3,000-foot winch, along with countless other to-do items germane to a project of such complexity.
A challenging endeavor for everyone involved, and also a priority.
"A lot of people look at it as just pipe, and it just flows gas," said Pasko. "But it's so much more than that when you get into the details, when you learn the benefits—how it's going to make the system that much more reliable."
Tim Falls says Ligon & Ligon is blessed with the right crews with the right skills for this job and great employees across the company, which celebrated its centennial last year. He continues to be impressed by BGE and the Ligon project team's commitment to embracing the unfamiliar in what will likely be a once-in-a-lifetime experience.
"My grandfather would have been very proud."