BGE hits major milestone in appliance recycling program, allowing thousands of customers to save money and help the environment
That spare refrigerator in the basement. The outdated dehumidifier in the den. Since 2009, BGE has been helping customers remove and recycle their old household appliances as part of our Smart Energy Savers Program®.
BGE recently celebrated the collection of over 100,000 home appliances for recycling in our service territory. In the process, we've helped save more than 116,016 megawatt hours (MWh) of electricity use by helping customers recycle their older, inefficient refrigerators, freezers, room air conditioners and dehumidifiers.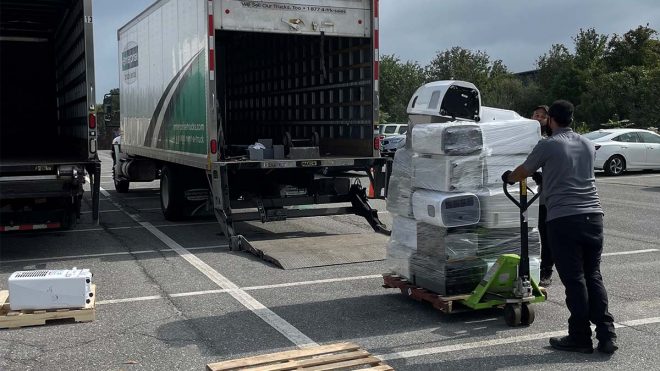 Did you know that a single spare refrigerator can contain up to 135 pounds of metal, 11 pounds of plastic, 6 pounds of foam insulation and 4 pounds of glass? Those materials can be recycled and turned into everything from consumer goods to building materials, cement and energy. In addition, an old refrigerator or freezer can waste up to 1,200 kilowatt-hours (kWh) of energy and as much as $100 in electric costs every year.
Through our Appliance Recycling Program, more than 95 percent of each appliance is recycled and disposed of properly, preventing usable materials from entering a landfill and decreasing the demand for raw materials such as steel, aluminum, copper, glass and plastic. Recycling old appliances also leads to a substantial reduction in emissions of ozone-depleting substances and greenhouse gases and helps prevent the release of toxic chemicals into the environment.
"We are grateful to all our customers who have recycled their old appliances with us," says Eric Riopko, Manager, Residential Energy Efficiency Programs at BGE. "We couldn't have reached this important recycling milestone without them, and we're proud to help them continue saving energy, money and resources."
If you have an old, working refrigerator or freezer you'd like to recycle, visit BGESmartEnergy.com to schedule a free pickup.