Rafael Olazagasti reflects on working to restore power for people in Puerto Rico months after a Category 4 hurricane devastated the island
Two years ago this week, Puerto Rico was in the earliest stages of assessing catastrophic damage caused by Hurricane Maria, which made landfall on Sept. 20, 2017. The Category 4 storm unleashed 155 mph winds and days of torrential rain across the island. On the coast, storm surge leveled entire neighborhoods. Inland, flash flooding did the same.
When the skies cleared only 5 percent of Puerto Rico's power grid was operational. Maria left 3.4 million people without electric service – nearly every man, woman, and child who called the island home.
Rafael Olazagasti still feels connected to these families. He grew up in Puerto Rico before moving to the U.S. mainland for college, where he was recruited by BGE as a new graduate. He's now a manager of gas construction, maintenance and repair, one of the many hats he has worn in his 38 years with the company. The most rewarding experience during his career, he says, came five months after Hurricane Maria when he volunteered to join more than 100 Exelon field employees on a mutual assistance mission to support critical power restoration efforts in rural Puerto Rico.
Olazagasti reflected on that experience for BGENow.
What was it like when you arrived in Puerto Rico in February 2018?
It was very emotional to see what people were going through. Not only what they were going through, but what they had been going through. When we got to Puerto Rico, the storm had gone by five months before. Parts of the island were still completely devastated by the hurricane.
We were assigned the interior of the island along the path of the hurricane. The hurricane came in on the southeast side of the island, hugged the center of the island, then came out on the northwest side. Basically, that was the territory that Exelon was given to restore and it had been pretty much untouched by restoration crews. Other companies had preceded us going to that area, but the damage was so significant that they just turned around and left.
The people we met were skeptical at first, understandably. They thought we were just going leave like everyone else. After a couple days of work, they realized we were there to stay and do the work. The outpouring of support was amazing – they fed us, and every time we turned somebody's power on they would clap and come out and dance in the streets.
It was very, very humbling.
What was your role?
From my experience at BGE, I have a background in storm logistics. I was the co-lead in charge of logistics for our crews in Puerto Rico. I was the one who had to make sure we had lodging, meals, all kinds of support services – medical services, laundry, equipment, etc. Everything we needed down there we had to coordinate. That was my job.
I was in the first of two waves of Exelon personnel. We worked for five weeks before our colleagues relieved us. Both waves were able to restore close to 40,000 total accounts.
What stuck with you most?
Right away we were assigned a feeder, and we were told this is your highest priority feeder. The reason was because there was one young man who was on life support – he needed a machine to keep him alive. His family was running that machine on a little portable generator. They had been without power at that time for maybe five months. They were spending every dime they had on buying fuel for the generator to keep it going.
We knew that we had to get them back online. I think it took us about five days from the time we hit the ground to the time we got them back into service. The satisfaction we felt was overwhelming, knowing that we restored life saving power to a young man and his family.
Big picture, why was this experience particularly meaningful?
You have to understand the history. The situation in Puerto Rico is very complex and it's not something that has developed in the last few years because of a hurricane. This is something that has been brewing for the last 40 years. The hurricane was just one element of the perfect storm. The island is bankrupt, there is a political crisis right now. All of that put together … it's an uphill battle the island will go through in the next five years, 10 years, maybe longer.
That's why it's so important that we were afforded the time to go to Puerto Rico on top of the hundreds of thousands of dollars Exelon donated to relief efforts. We spent thousands and thousands of man hours doing the work, sending the equipment, coordinating. I was reminded that our people at BGE and across Exelon – their can-do attitude, their technical proficiency, their customer orientation – it's second to none. I'm beyond grateful to work for such a quality company and to work alongside such dedicated colleagues.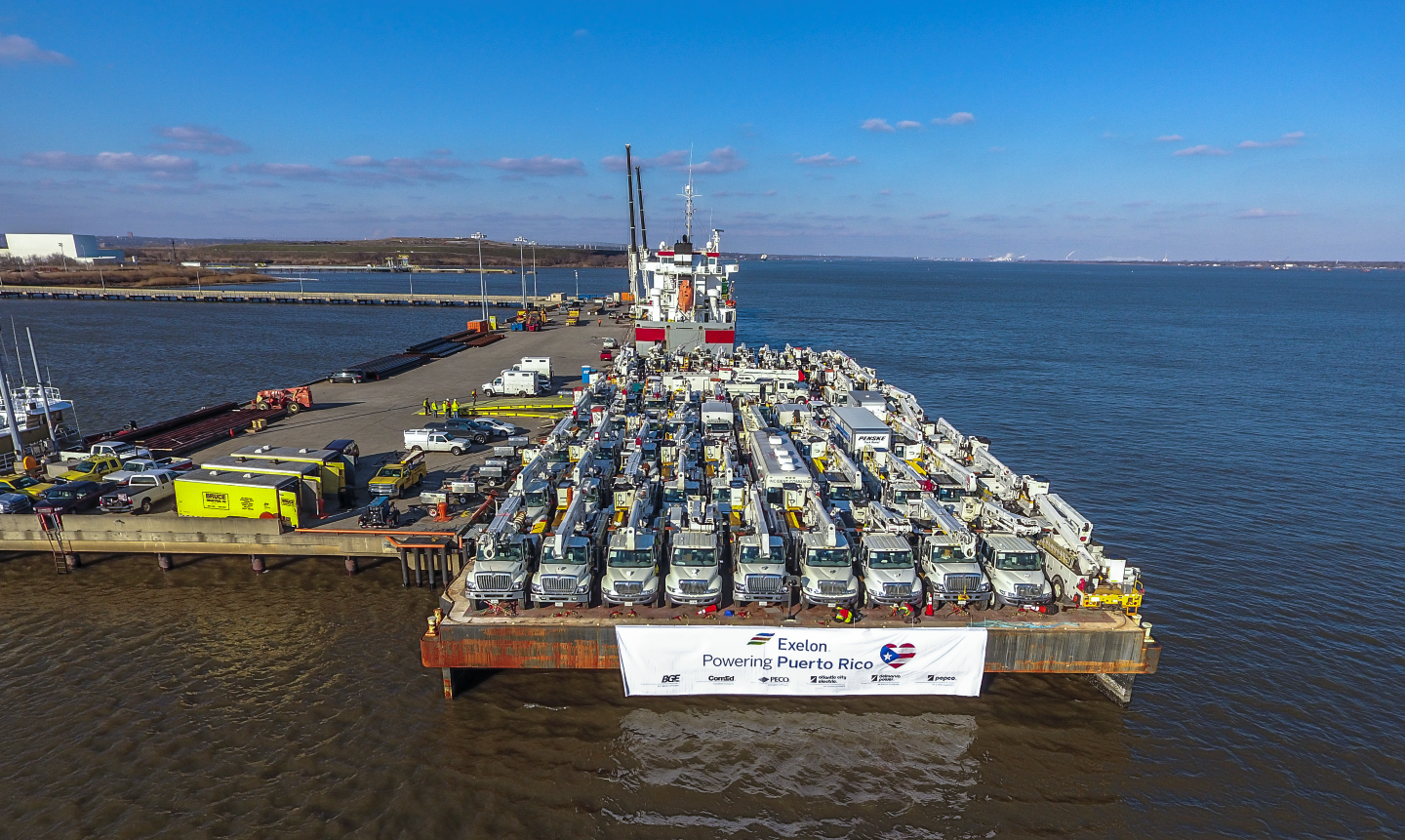 Would you do it again?
Absolutely. I felt such a sense of purpose, sense of duty, sense of responsibility that I had to go down there and help. Yes, I have a personal connection to Puerto Rico. But I tell you, if I were asked to go out and do it for somebody in Texas or somebody in Florida, I would do the same without hesitation.
===
BGE volunteers shared more about their experience in this video after they returned from Puerto Rico in 2018: