BGE crews inspecting more than 100 miles of equipment on overhead lines and substations that bring power to area medical facilities
Through the end of March and into early April, BGE crews are proactively inspecting electric equipment on 116 miles of overhead lines that serve hospitals and other major medical facilities across the company's service area to identify and address any issues that could cause an outage. Crews also moved up recurring inspections of certain substations where electricity feeds originate for these critical health care facilities.
Their work is efficient, and field crews travel light. John Matuk, a longtime BGE senior distribution tech, used the standard thermal camera and binoculars to examine equipment on dozens of electric utility poles in Essex. These overhead lines serve MedStar Franklin Square Medical Center nearby.
"I'm looking for any potential issues, whether it be a hot clamp, hot switch, split cross arm, broken cross arm, cracked insulator, blown lightening arrester—anything that would in the foreseeable future cause even a momentary outage," said Matuk.
Franklin Square is among the hospitals and medical facilities to benefit from electric feeder and substation inspections completed in just two weeks. BGE engineers Wende Weber and Kells Lynch are managing the project, which also includes upcoming inspections of overhead equipment serving psychiatric facilities and significant medical business customers. Overhead lines are normally inspected every two years by regulation, but given the COVID-19 public health emergency the inspections of equipment serving hospitals was accelerated.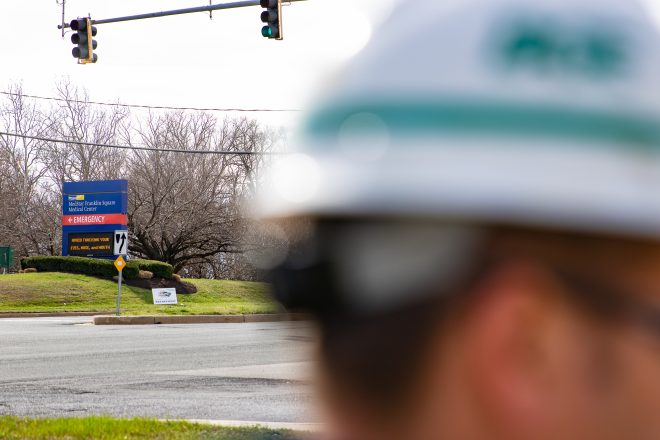 BGE employees from Regional Distribution Engineering, Substation Operations, Workload Management, all the company's service centers (Fix-It-Now crews), and Large Customer Services are collaborating on the effort, which followed Governor Larry Hogan's public health surge order issued March 16.
Crews plan to inspect the hospitals' backup power lines as well—another proactive step to support Maryland's overall pandemic response. Major hospitals have an additional redundancy—backup generators—but maintaining permanent electric supply is essential for full facility operations.
"This is going to save lives," said Matuk. "Imagine if a hospital lost power in a crisis like this. It would be detrimental."
That includes field hospitals, too. BGE teams are already working to identify proactive inspections to support service reliability at the Baltimore Convention Center. State officials say it could hold as many as 750 patients.