"To get through this challenge requires everyone—residents, businesses, government, and relief organizations—to work together."
BGE is joining with Constellation and Exelon in making a commitment of $1 million to Maryland relief organizations and small businesses in response to Covid-19. The economic need for both during the current health crisis continues to increase, and these essential funds are being donated to help with the daily operations of these important groups during the coronavirus (COVID-19) pandemic. This is part of more than $5 million donations in total by Exelon Corporation and its family of companies nationwide to relief organizations in support of communities impacted by the spread of the coronavirus.
"Our commitment to the relief organizations doing heroic work to help our community through the pandemic challenge is an extension of the efforts of our employees to ensure the delivery of safe and reliable energy to healthcare providers, first responders and all of our customers at this critical time," said Carim Khouzami, BGE CEO. "To get through this challenge requires everyone—residents, businesses, government, and relief organizations—to work together. It begins with extending helping hands to the most vulnerable members of our community. We continue to be immensely grateful to our partners in Maryland's relief organizations and support their good work through some of the most difficult circumstances our community has ever faced."
"We've always been committed to supporting the communities where we live and work, and now we are stepping up even more to ease the circumstances for individuals, families, and businesses confronting this pandemic," Jim McHugh, CEO of Constellation, said. "Our efforts, in partnership with Exelon and BGE, will not only contribute to local relief organizations, but also national ones, such as Feeding America, the largest hunger relief organization in the country with an expansive network of food banks. It's an honor to be able to help our customers, neighbors and communities and we will continue to look for ways to support them throughout this crisis."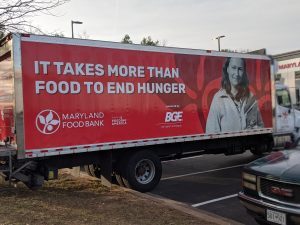 Nonprofits and Maryland small businesses are continuing to experience unprecedented working disruptions due to current safety protocols, and it is critical that these organizations and businesses have the resources they need to continue operating at the highest levels.
Theses donations include funds to the United Way of Central Maryland's COVID-19 Community Fund, which will support the United Way of Central Maryland 211 Call Center. The 211 Call Center has seen volume more than quadruple with over 1,500 calls requesting information about food, COVID-19, counseling and calming.
The Maryland Food Bank will also receive necessary additional funds to help purchase and safely distribute nutritious food to Baltimore City and all surrounding counties while Maryland communities continue to deal with COVID-19.
The donation to the Baltimore Community Foundation's COVID-19 Evolving Community Needs Fund will aid in rapid response actions during the public health emergency the Maryland region is currently facing. One hundred percent of these funds will go directly to address the negative impacts of the COVID-19 pandemic on the Maryland region's communities, workforce, and vulnerable populations.
Also, a contribution to The Feeding America network will help support the group's ramped-up efforts across the country. The largest hunger relief organization in the United States is partnering with school districts and local government agencies to ensure that the 22 million children who rely on school meals have access to food outside of the classroom; providing emergency grants and food boxes to food banks across the country; and, working to distribute non-food and household items such as cleaning supplies, diapers and personal care products to those in need.
To assist families and businesses experiencing financial stress during this public health crisis, BGE and all Exelon utilities — Atlantic City Electric, ComEd, Delmarva Power, PECO, and Pepco — have suspended service disconnections and are waiving new late payment charges until at least September 1, November 15th, 2020. BGE is also working with residents whose service was disconnected prior to the March 13 service disconnection moratorium to have service restored. Those customers should contact the company at 800-685-0123 . As part of the reconnection process, BGE Customer Care representatives will work with residents to help identify assistance programs that can supplement bill payment and can help ensure service remains on after this pandemic.
As a provider of the critical infrastructure that powers hospitals and health care facilities, federal, state and local response centers, and the millions of homes and businesses where people live and work, BGE recognizes its foundational role in crisis response plans for the communities it serves. The company has robust plans and contingencies to ensure business and operational continuity across a wide range of potentially disruptive events, including extensive preparedness for a major public health crisis. BGE, along with Exelon and its sister utility companies, is also working in close coordination with designated state and local emergency preparedness and health officials, and at the federal level through the Electric Subsector Coordinating Council.