Majority of job opportunities are with some of BGE's major contractors and offer a pathway to a life-long career
Ricky McCarter was underemployed and seeking a chance to grow into a new job opportunity.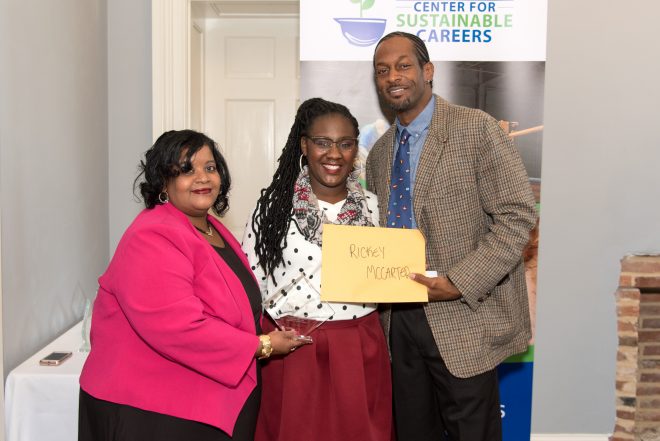 After learning about the BGE Workforce Collaborative he jumped at the opportunity to develop new skills and potentially find a career. Two months later he earned a job with Stella May, a firm that works with utilities throughout the mid-Atlantic and does extensive work on BGE's gas system.
"I feel really good about everything I've done for myself since I started the program," said McCarter. "I have a plethora of skills. Even if I weren't working in utility construction, I could find work on any of the construction sites in the area. There is so much growth potential. Now I'm looking forward to what hurdle I can leap next."
McCarter is just one example of the profound impact BGE's Workforce Collaborative has had on its participants – the majority of whom were unemployed when starting the program. Since its launch in fall 2019, four Workforce Collaborative cohorts made up of 48 participants resulted in 41 job offers with an average starting salary of $35,000. The program—operated in partnership with Civic Works— connects job seekers with contractors that support the increased pace of work on BGE's electric and gas infrastructure.
"A lot of the work we do on our gas and electric systems is done by contractors, so it's in our best interest to help them find the strongest pool possible of potential employees," said BGE CEO Carim Khouzami. "But there's a bigger reason why we are working with Civic Works in the heart of Baltimore City. Opportunity is growing in our industry, but we know that many people don't have a way in. The Workforce Collaborative allows us to open the door to more people so they can train and learn and then go for these great jobs."
Civic Works recruits and screens participants and administers the program. BGE connects its network of gas and electric contractors and Civic Works; BGE also funds the program and ensures graduates meet the standards needed to work on critical energy infrastructure. The Workforce Collaborative is part of BGE's Smart Energy Workforce Development Program, which creates diverse talent pipelines representative of BGE's entire service area.
Two Workforce Collaborative graduates who earned careers with Ferguson Trenching share their stories in this video
"We are thrilled to partner with BGE on this program that builds pathways to family-sustaining careers for unemployed and underemployed residents," said Dana Stein, executive director of Civic Works. "I'm proud of our participants who have put in the work, the Civic Works staff who run the program, and of course our contractor partners who have committed to working with us to ensure these individuals are prepared and then hiring them into good-paying jobs."
Despite the COVID-19 pandemic, BGE remains committed to the Workforce Collaborative and positioning people for more utility job opportunities.
"These difficult times make the mission of helping those that need a door opened to find a career path that much more important," said Rodney Oddoye, BGE's senior vice president of governmental and external affairs. "Even though the pandemic adds another hurdle for these men and women, we are fully dedicated to continuing and expanding the Workforce Collaborative with Civic Works so that more individuals can benefit from this life-changing experience."
Participant classes in the Workforce Collaborative will occur on a rolling basis throughout the year. To learn more about joining, click here: Civic Works' Center for Sustainable Careers or call 410-929-6120.